Media Release
Tuesday, 13 September 2011 14:08
Links Living today announced the public release of land at the Geelong Golf Club Residential Estate will occur on Saturday 8 October 2011.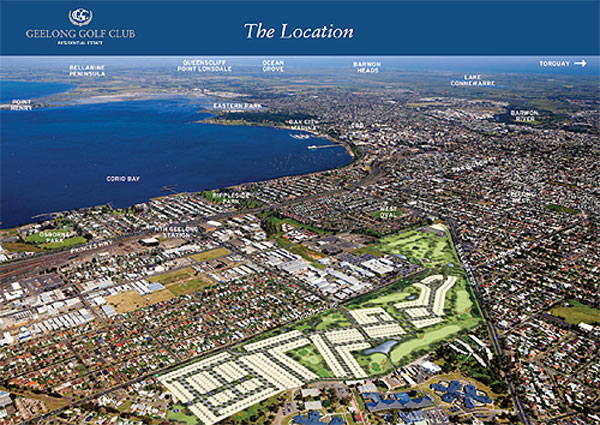 Geelong Golf Club Residential Estate shown in the green marked section

To this stage, Links Living has been providing the first opportunity to purchase to people who registered an interest before any general public release.
Ruth Ritchie, Sales Manager at the Geelong Golf Club Residential Estate said, since the project had been approved by the City of Greater Geelong, there have been more people registering their interest before the public release.
"These people will be given an opportunity to purchase land up until 8 October 2011 providing land is still available."
"The major feedback from purchasers is the opportunity to live in a prestigious precinct with large areas of open space, no through traffic, and an opportunity to be part of a new master planned precinct of quality homes."
Ms Ritchie said that the response to date has primarily come from Geelong residents who were taking the opportunity to trade up to a high quality environment governed by an Owners Corporation.
The Owners Corporation provides the Geelong Golf Club Residential Estate residents with certainty of quality ensuring all individual housing designs are generally compatible and of an acceptable quality, and the golf course and other community owned facilities remain well maintained in perpetuity.
"Golfers and home buyers are expressing interest in the many home sites with golf course and park frontages. These home buyers are looking for green open space views with access to a range of sporting and recreational facilities."
"These are the lots which are most in demand."
The Geelong Golf Club Residential Estate will contain 320 residential lots, a nine hole golf course, a golf academy and driving range, and an indoor / outdoor lawn bowls facility. Construction works are expected to commence within a couple of months and will ultimately provide a major boost to local housing activity for the region.
Ms Ritchie said the location of the Geelong Golf Club Residential Estate, on the corner of Ballarat Road and Thompson Road, has great access to the Geelong CBD and is just minutes from both Corio Bay and the boutique shopping precinct of Pakington Street.
"This means residents can enjoy the convenience of living in a tranquil, private enclave with easy access to all of the fabulous amenities Geelong, the Bellarine Peninsula and the Surf Coast regions have to offer. And with the new Geelong Bypass, Melbourne's CBD is less than an hour away."
Media Enquiries:
Ron Smith, Corporate Media Communications, Links Living - Mobile: 0417 329 201