Media Release
Tuesday, 09 September 2014 11:55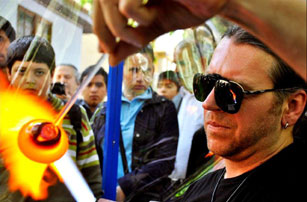 Glass Artist Christian Arnold
The artists will demonstrate glass blowing techniques practised since ancient Syrian times and which became widely practised in Murano Italy in the 14th Century.
Gallery Director Peter Kolliner OAM said, "Since our first Flame on Glass exhibition in 2003, flame formed glass has developed to a point that many of the participating artists have become internationally acclaimed and flame formed glass is now recognised as a significant art form in Australia and overseas.
"The range of works featured in the 2014 exhibition ranges from substantial art pieces to special glass jewellery and delicate work depicting a wide range of wildlife and marine life."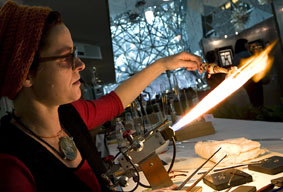 Glass Artist Cas Davey
Flameworking is a process that uses a gas fuelled torch to melt rods and tubes of clear and coloured glass. Once in a molten state the glass is formed by blowing and shaping with tools and hand movements.
Early flameworking was done in the flame of an oil lamp, with the artist blowing air into the flame through a pipe. Most artists today use torches that burn either propane or natural gas.
Flameworking differs from glassblowing, in that the latter process uses a blowpipe to inflate a gather of glass, whereas the former manipulates glass either by the use of tools, gravity, or by blowing directly into the end of a glass tube.
Flame on Glass exhibition - participating Artists include:
Christian Arnold, Barbara Ashbee, Sally Balfour, Susie Barnes, Wendy Bergamin, Penel Bigg, Alexandra Chambers, Kathryn Chaston, Jemma Clements, Richard Clements, Cas Davey, Pauline Delaney, Kristen Dibbs, Mark Eliott, Julie Frahm, Sally Green, Marilyn Hayes, Lee Howes, Terri Kraehe, Sheena Larsen, Len McFadden, Andrea McKey, Alistair Mead, Jennie Merritt, Raymond Mifsud, Peter Minson, Anne Oberin, Lisa Simmons, Craig Snell, Veronique Southan, Alan Ussher, Kathryn Wardill and Laurie Young.
Flamework Demonstrations
11 September 2014 - 6pm to 8pm
12 September 2014 - 11am to 5pm
13 September 2014 - 11am to 5pm
14 September 2014 - 11am to 5pm
The exhibition will be opened by Peter Minson, a third generation glass blower, teacher and mentor.
Kirra Galleries Exhibition - Flame on Glass
Opening 6.00pm Thursday 11 September 2014
Kirra Galleries Federation Square (enter via Atrium)
Cnr. Swanston & Flinders Streets, Melbourne
Media Enquiries:
Ron Smith, Kirra Galleries - Mobile: 0417 329 201