Media Release
Tuesday, 29 April 2014 15:38
Opening 6.00pm - 8.00pm Thursday 1 May 2014
Kirra Galleries, Federation Square (enter via Atrium) Cnr Swanston & Flinders Streets, Melbourne.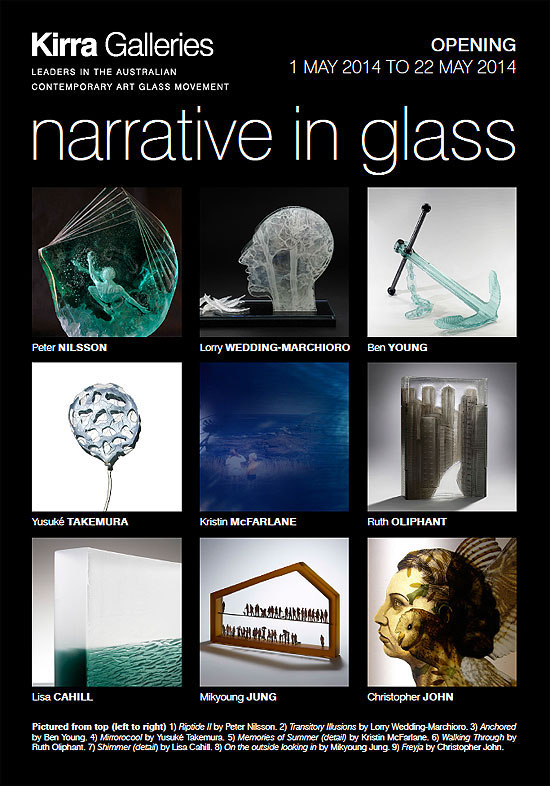 Kirra Galleries are delighted to present an exhibition titled NARRATIVE IN GLASS featuring the work of nine Australian glass artists.
The exhibition Narrative in Glass will examine the art of storytelling, personal experiences and social commentary through sculptural works in glass.

Peter Kolliner OAM, Gallery Director together with management and staff would like to invite you to join us at the opening of Narrative in Glass on Thursday 1 May 2014 at 6.00pm.
The exhibition will be opened by Maureen Williams, internationally renowned Australian glass artist.
Lisa Cahill's work talks about the vast beauty of the ocean. It can be serene and calm, at other times its wild storms can be brutal. When light shimmers on the surface the sea is transformed into an angelic vision hiding its potential to be wild and volatile. With this work Lisa aims to create a place for quiet contemplation, an artwork that ponders the reality beyond the visible.
Christopher John explores the relationship of pattern to the human form with intimations of interior states of being and the mythos of antiquity and for many years he has returned to the human face at his "Licht Moif".
Mikyoung Jung combines kiln-formed glass with metal and other materials and the fusion of the two elements allows her to catalogue and articulate her emotions and encountered visual experiences acquired while travelling which for Mikyoung is a continual migration.
Kristin McFarlane regards glass as ideal for layering images and text to create three dimensional and creative works due to its tactile and sensual qualities. The nature of glass with its inherent refractions and optical qualities takes the graphic elements into a realm of unique dimensions.
In his latest work Peter Nilsson's theme is "to catch or get caught". Peter is working with aquatic motifs and in this exhibition he will concentrate on situations where the figures are catching their prey, or they are caught by a force more powerful.
Ruth Oliphant recreates an essential aspect of the modern city based on her experiences and memories. She explores the use of layers, bringing them together to create more complex landscapes and cityscapes.
Yusuké Takemura's innovative methods are a fusion of traditional technique with contemporary knowledge that he has developed to translate ideas concerning human experience, history and space.
Lorry Wedding-Marchioro uses imagery derived from intangible elements sourced from poetry, music and the natural world. Often a word or phrase will inspire a work, the meaning resonating with her artistic sensibilities.
Originally from a boatbuilding background and with a strong passion for the ocean; this series of work by Ben Young symbolises a journey of life depicted by objects based around the ocean. Each piece can figuratively express a certain part of life's journey whether it be dropping anchor and settling, sailing off on travels or navigating obstacles. The addition of concrete and steel have been introduced to represent traditional construction methods and materials used commonly in everyday life as well as in the boat building industry.
Narrative in Glass Exhibition
Opening 6.00pm-8.00pm Thursday 1 May 2014
Kirra Galleries, Federation Square (enter via Atrium) Cnr Swanston & Flinders Streets, Melbourne.
Media Enquiries:
Ron Smith, Media Communications, Kirra Galleries - Mobile: 0417 329 201