Media Release
Thursday, 08 August 2013 12:00
11.00am Friday 16 August 2013
Hot Flame at Fed Square
Ancient Glass Blowing Demonstration
Kirra Galleries, The Atrium, Federation Square
Some of Australia's leading glass artists specialising in flame art will turn the clock back several centuries today when they demonstrate the ancient form of Flame Glass art to officially launch the 11th Flame on Glass Exhibition in Kirra Galleries at Federation Square.
Flameworking is a process that uses a gas fuelled torch to melt rods and tubes of clear and coloured glass. Once in a molten state the glass is formed by blowing and shaping with tools and hand movements. This art form has been practised since ancient Syrian times and became widely practised in Murano Italy in the 14th Century.
Early flameworking was done in the flame of an oil lamp, with the artist blowing air into the flame through a pipe. Most artists today use torches that burn either propane or natural gas.
Flameworking manipulates glass either by the use of tools, gravity, or by blowing directly into the end of a glass tube.
The Flame on Glass 11th Annual exhibition features over one hundred pieces of work covering a wide range of exhibits from jewellery to sculpture and includes wildlife and marine themes and is available for filming.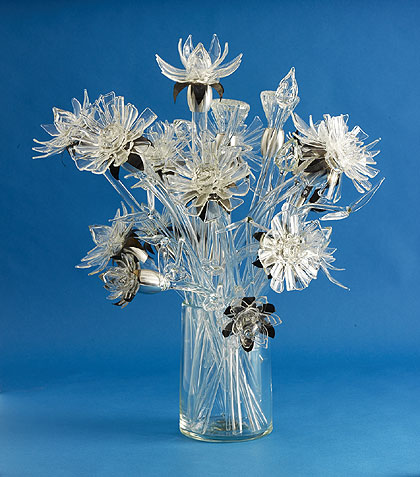 'Lotus'  by Giselle Courtney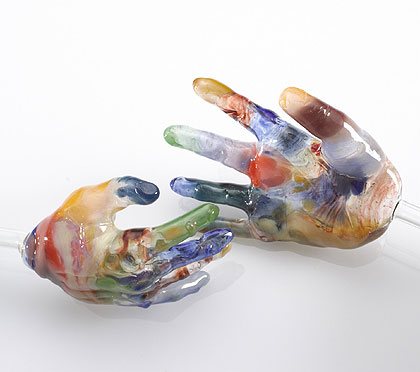 'Hands Can Talk 2012' by Mark Eliott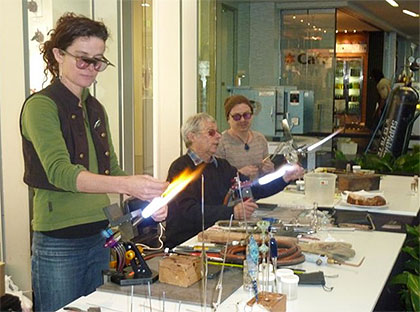 Flame artists demonstration
Participating Artists include:
Christian Arnold, Barbara Ashbee, Sally Balfour, Susie Barnes, Wendy Bergamin, Kathryn Chaston, Jemma Clements, Richard Clements, Giselle Courtney, Cas Davey, Kristen Dibbs, Mark Eliott, Sally Green, Marilyn Hayes, Terri Kraehe, Len McFadden, Jennie Merritt, Raymond Mifsud, Peter Minson, Anne Oberin, Helen Peake, Lisa Simmons, Craig Snell, Veronique Southan, Alan Ussher, Kathryn Wardill and Laurie Young.

Flamework Demonstrations
15 August 2013 - 5pm to 8pm
16 August 2013 - 11am to 5pm
17 August 2013 - 11am to 5pm
18 August 2013 - 11am to 5pm
Flame on Glass Exhibition Opening
6.00pm to 8.00pm Thursday 15 August 2013

Kirra Galleries - Fed Square
Enter via Atrium Cnr. Swanston & Flinders Streets Melbourne
Phone: 03 9639 6388
www.kirragalleries.com
Open 7 days a week 10am - 6pm

Media Enquiries:
Ron Smith, Kirra Galleries - Mobile: 0417 329 201