Media Release
Tuesday, 05 March 2013 14:09
Kirra Galleries Launches 2013 Exhibition Season with The Third Dimension 
Kirra Galleries, Federation Square 
Melbourne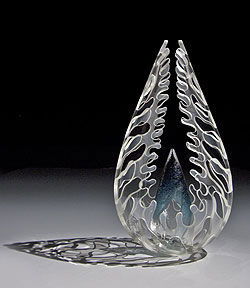 Frosty Bud by Yusuké Takemura
The Third Dimension - Masters in carved and etched glass.
This exciting exhibition showcases the diversity of techniques both ancient and ground breaking developed by this talented group of artists to create and decorate their work.
Alasdair Gordon has mastered the ancient art of copper wheel engraving to create his extraordinary cameo pieces whilst Rish Gordon uses fine sandblasting and engraving to create imagery inspired by her childhood in Africa. Kevin Gordon carves and sandblasts detailed abstract imagery to create beautiful thought provoking works.
Holly Grace uses a combination of blown vessels in groups to depict etched images of evocative landscapes. Amanda Louden chooses Australian flora, insects and marine life as inspiration for her delicate sandblasted vessels and Miki Kubo carves and engraves detailed images of animals and birds onto elegant translucent forms.
The rhythm, scale and detail of organic form are revealed in Mariella McKinley's exquisite carved cane pieces, whereas Peter Nilsson explores the forces of "Man versus Nature" carved into layers of clear glass to reveal powerful three dimensional sculptured works.
The narrative of Tony Hanning's work etched into blown vessels along with the landscapes by David Hay inspired by aerial photography draw the viewer into the mind of the artist.
Translucent glass is transformed by Yusuké Takemura and Kayo Yokayama. Yusuké carves patterns into fragile glass to create dramatic, light reflecting sculptures influenced by his memories of nature. Kayo uses fine diamond wheel carved imagery to create calming tiny worlds sheltered beneath trees.
The Third Dimension exhibition will be opened on Thursday 7 March at 6.00pm. Guest speaker at the opening will be Dr Tony Hanning, renowned glass artist and author.
Artists participating in The Third Dimension exhibition include:
Alasdair Gordon, Kevin Gordon, Rish Gordon, Holly Grace, Tony Hanning, David Hay, Miki Kubo, Amanda Louden, Mariella McKinley, Peter Nilsson, Yusuke Takemura, and Kayo Yokoyama. 
| | |
| --- | --- |
| The Muster by Alasdair Gordon | Ghosts of Past by David Hay |
The Third Dimension 7 March 2013 - 7 April 2013
Opening 6.00pm - 8.00pm 7 March 2013

Kirra Galleries Federation Square (enter via Atrium)
Cnr Swanston & Flinders Streets Melbourne
Phone: (03) 9639 6388

Media Enquiries:
Ron Smith, Media Communications, Kirra Galleries Mobile: 0417 329 201