Media Release
Friday, 26 October 2012 09:59
Some of Australia's leading glass artists will leave Australia this week to exhibit in the 19th Annual International SOFA (Sculpture Objects & Functional Art) exhibition, which will take place at Chicago's historic Navy Pier from Thursday 1 November to Sunday 4 November 2012.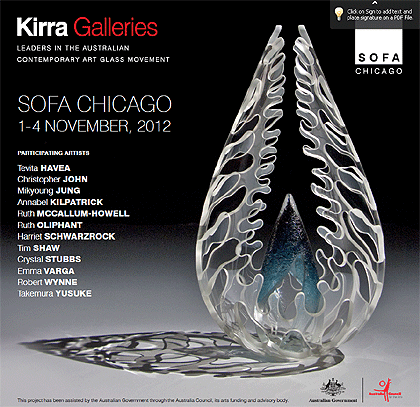 Kirra Galleries will exhibit the work of twelve Australian Glass Artists at SOFA, showcasing a variety of techniques.
Mr Peter Kolliner OAM, Gallery Director said, "For nine years, Kirra Galleries, located in Federation Square in Melbourne, through its policy of promoting Australian Contemporary Glass Artists internationally, has taken the work of some forty artists to the renowned SOFA exhibition with the support of the Australian Government through Austrade and the Australia Council.
Mr Kolliner said, "Kirra Galleries attendance at SOFA Chicago has resulted in many of our emerging artists gaining recognition from international collectors and galleries. Their works are now included in many of the most prestigious private and public collections in the USA. Through this exposure they have also gained international representation allowing them to make a full-time commitment to their art."
"This year we will be represented by our Gallery Manager and Curator, Suzanne Brett, Yasmin Brett, Gallery Co-ordinator and the Gallery's Administration Manager, Vicki Winter".
"The success of Kirra Galleries' exhibition at SOFA is supporting the development of international markets and recognition for Australian artists, providing new and emerging glass artists the opportunity to gain international exposure."
To celebrate and promote the artists and their works being exhibited at the 19th Annual International SOFA (Sculpture Objects & Functional Art) exhibition, Kirra Galleries have released a Special Report - Click here to download the 2012 SOFA Report.
Artists being showcased in the 2012 SOFA exhibition in Chicago include:
Tevita Havea, Christopher John, Mikyoung Jung, Annabel Kilpatrick, Ruth McCallum Howell, Ruth Oliphant, Harriet Schwarzrock, Tim Shaw, Crystal Stubbs, Emma Varga, Robert Wynne and Takemura Yusuke.


The Transit by Tim Shaw
Photography by Iain Bond


Media Enquiries:
Ron Smith, Media Communications, Kirra Galleries Mobile: 0417 329 201
Join the artists, collectors and friends of Kirra Galleries on Facebook and Twitter, view their video library on Vimeo.

Kirra Galleries
Federation Square (enter via Atrium)
Cnr Swanston & Flinders Streets Melbourne.

Phone: +613 9639 6388
Fax: +613 9639 8522
Email: This e-mail address is being protected from spambots. You need JavaScript enabled to view it

Opening hours: Monday - Sunday 10.00am-6.00pm