Media Release
Tuesday, 24 April 2012 14:02
The current exhibition at Kirra Galleries titled New Work, featuring the works of George Aslanis and Crystal Stubbs, was officially opened by internationally recognised Art Historian Dr Bronwyn Hughes, Glass Artist, Senior Lecturer, Curator and Writer.
Speaking at the official opening Dr Hughes said:
"George Aslanis has once again created an impressive body of work that is clearly informed by his Greek-Australian origins. It is not simply the titles that evoke Greek Gods and legends, but the glass, which appears to explode in flamboyant and fantastical forms, such as the reaching Moonphase and Thendro 4. Others like Halos 2, rich in symbolic motif, seem to whirl in a riot of colour and light. One needs time before one can absorb their monumentality. Most of these forms can be read from both sides - either looking deep into the interior of the piece through the glossy surface, or on strong surface shape and texture. In a sense, these have an inner and an outer being - a mirror on the human condition.
Crystal Stubbs has been evolving her Character Series for more than six years, each work is a fresh as if it was a new thought. These cast outer forms, inset with small figures - seem totally self-contained and invite close inspection as the only way to enter into their orbit. This becomes a revelation as one examines the movement in the surrounding glass form created by both shape and colour, or by trying to gauge the expressions on the small still faces. Many of the works radiate a very subtle tension, such as Cling - is the man pulling the form down or is the glass lever pulling him up? The same sort of tension is found in Encircle and Encompass where the small human form is both squeezed in and pushing out of the surrounding form. Crystal uses colour quite differently but quite as effectively as does George in order to interpret and reinforce her ideas. I found Enfold especially engaging, with its minimal use of colour and its enveloping form."
View the YouTube video of Crystal Stubbs and George Aslanis at work.
View the online Exhibition Catalogue
New Work Exhibition 19 April 2012 - 19 May 2012
Kirra Galleries, Federation Square
(enter via Atrium)
www.kirragalleries.com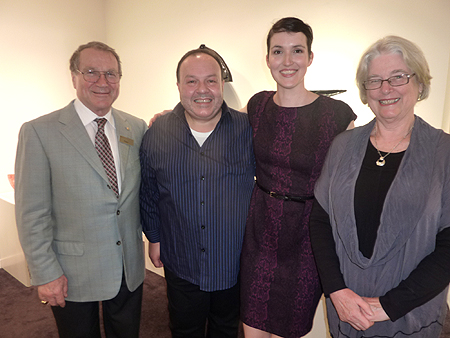 Left: Peter Kolliner, Director of Kirra Galleries; Artists George Aslanis and Crystal Stubbs;
and Dr Bronwyn Hughes at the official opening.

Crystal Stubbs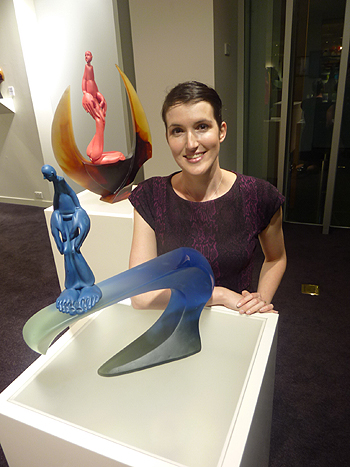 Crystal Stubbs with her works Peer and Reflect.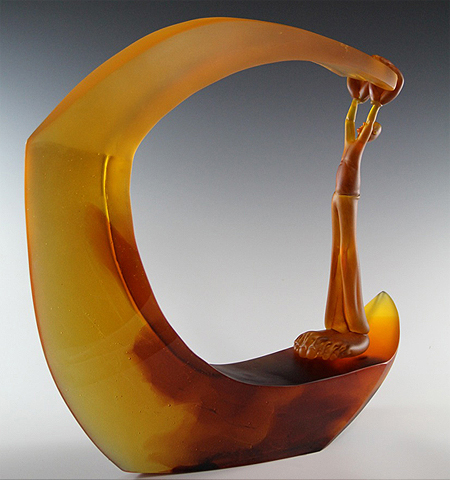 Cling by Crystal Stubbs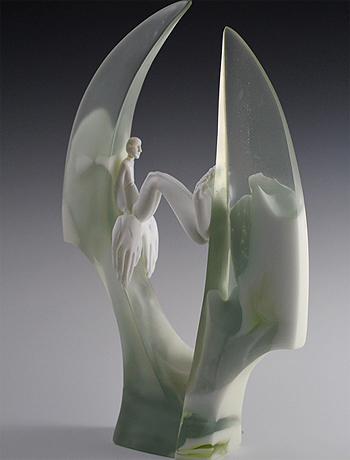 Enfold by Crystal Stubbs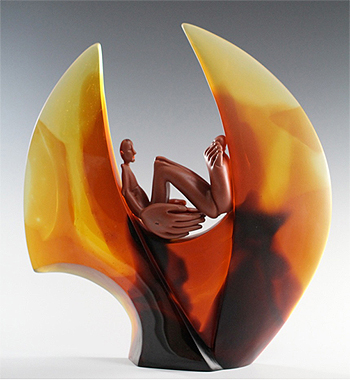 Encompass by Crystal Stubbs
George Aslanis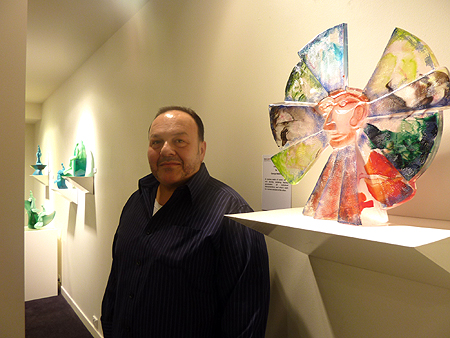 George Aslanis with his work Halos 2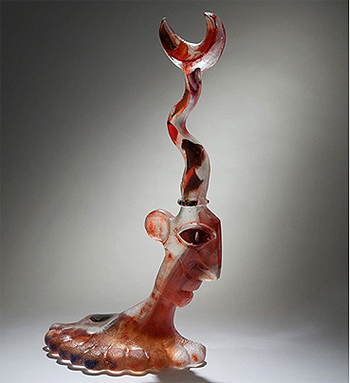 Moonphase by George Aslanis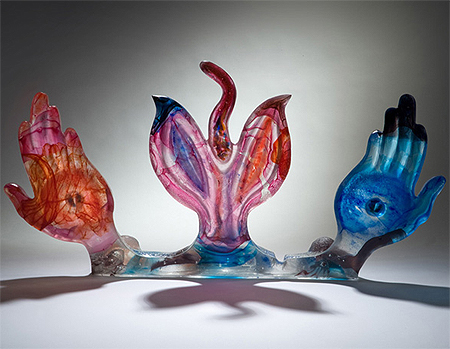 Janus Reliquary by George Aslanis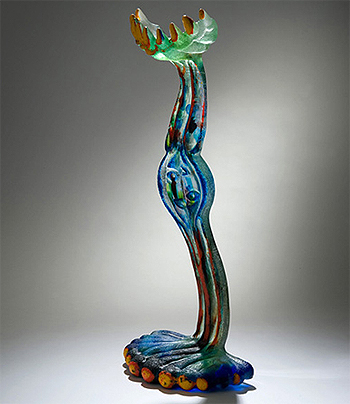 Thendro 4 by George Aslanis
Join the artists, collectors and friends of Kirra Galleries on Facebook.




Kirra Galleries
Federation Square (enter via Atrium)
Cnr Swanston & Flinders Streets Melbourne.

Phone: +613 9639 6388
Fax: +613 9639 8522
Email: This e-mail address is being protected from spambots. You need JavaScript enabled to view it

Opening hours: Monday - Sunday 10.00am-6.00pm