Media Release
Thursday, 12 April 2012 10:32
Kirra Galleries are delighted to invite you to the opening of an exhibition featuring the work of George Aslanis and Crystal Stubbs. 
The exhibition will be opened by internationally recognised Art Historian Dr Bronwyn Hughes, a Glass Artist, Senior Lecturer, Curator, Writer and Editor of 'The Encyclopedia Project', supported by Architectural Glass Design Australia Inc. The Encyclopedia Project is a five-year project to collect and record data on the commercial firms, ateliers, men and women who have contributed to the art and industry of stained glass in Australia since 1850. Dr Bronwyn Hughes was Deputy Head of the Department of Applied Art at Monash University, Caulfield and Peninsula campuses during the period 1995 - 1997.
Exhibition Opening: Thursday 19 April 2012 - 6.00pm-8.00pm

Kirra Galleries, Federation Square
(enter via Atrium)
www.kirragalleries.com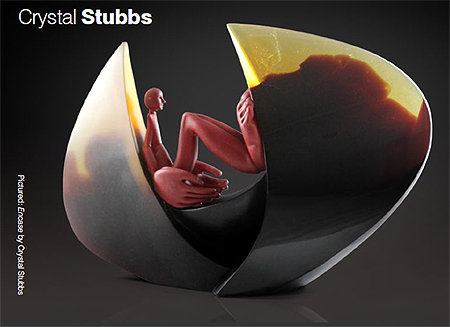 Encase by Crystal Stubbs

Crystal Stubbs


Crystal Stubbs 
Crystal Stubbs is an Australian born glass artist based in country Victoria. She produces hot solid formed glass sculptures that are figuratively based. Her latest series of work, Character Series, incorporates cast crystal elements - it explores the relationship between the human form and architectural elements. Crystal graduated from Monash University with an Honors degree in 2001 and worked for many different glass blowing studios in the subsequent four years.
In 2003 she received a Monash University Fellowship in the Glass Studies area. In 2005 Crystal won 3rd place in the Sculpture section of the prestigious Waterhouse Natural History Art Prize and she has been a scholarship recipient at Pilchuck Glass School twice where she studied under Dino Rosin and Pino Signoretto and in 2011 Crystal was the Tricia Allen Memorial Prize Winner in the Nowa Nowa Nudes Art Competition. Crystal exhibits new work regularly and has been represented at SOFA Chicago by Kirra Galleries for the past eight years.
Crystal runs her own glass blowing studio in East Gippsland where she lives with her husband and young children.
Artist Statement
"Within my work I have focused on creating stylized figurative pieces that are aesthetically coherent. Through the use of two different techniques 'Character Series' explores the relationship between the human figure and structural shapes. I enjoy the challenge of combining the immediate hot glass process with the more time consuming casting process.
I sculpt fluid human forms, and incorporate lineal, structural objects to create an interesting contrast, yet aesthetically balanced piece."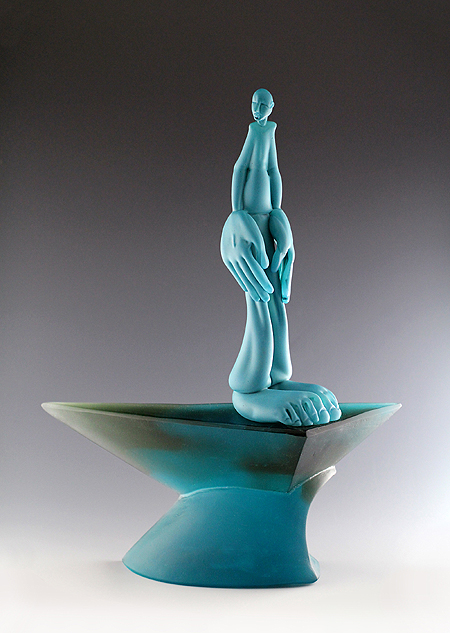 Divine by Crystal Stubbs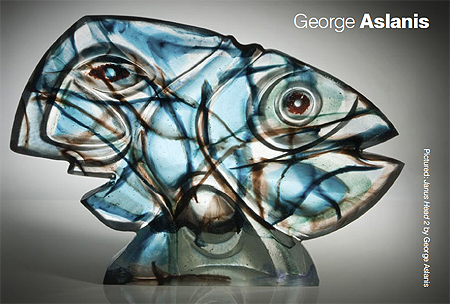 Janus 2 by George Aslanis
George Aslanis


George Aslanis 
George Aslanis has been an artist and involved in art education all his adult life. He is the Coordinator of the Glass and Ceramic Studio in the Faculty of Art Design and Architecture, Department of Fine Arts, Monash University, Melbourne, Australia. He has taught many Australian contemporary glass artists throughout his academic career.
George's practice involves a dialogue that describes 'state of being'. Symbol and metaphor are important motifs in his work. Drawing from cultures past and present he combines various elements to create visually complex cast glass sculptures. These objects are read from two sides, a sculpted textured surface and an open view into the interior space of the glass. The question of what exists beneath the surface, the interior life often unseen is a constant aspect of George Aslanis' work.
George Aslanis has been represented by Kirra Galleries at SOFA Chicago for the last eight years.
Artist Statement
"In this new body of work I discuss the relationship between the past and the future, perceiving the world at once from opposite directions. My work is a contemporary interpretation of the Janus mythology which originated in ancient Rome. Janus symbolises beginnings and transitions, endings and time."
Join the artists, collectors and friends of Kirra Galleries on Facebook.




Kirra Galleries
Federation Square (enter via Atrium)
Cnr Swanston & Flinders Streets Melbourne.

Phone: +613 9639 6388
Fax: +613 9639 8522
Email: This e-mail address is being protected from spambots. You need JavaScript enabled to view it

Opening hours: Monday - Sunday 10.00am-6.00pm