Media Release
Wednesday, 06 October 2010 11:09
Kirra Galleries will hold a major exhibition of the works of thirty artists who have graduated from 

Monash University's Department of Fine Arts Glass Studio, which opened in 1980.
Bowl of Fractured Fire by Richard Morrell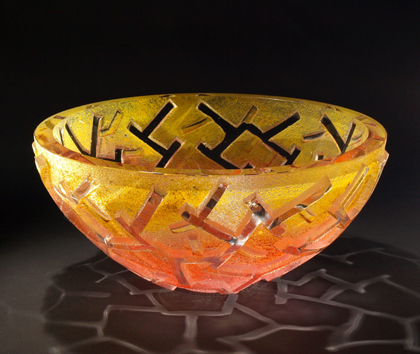 Kirra Galleries, based at Federation Square, presents the fourth annual Monash Momentum exhibition focused on 'Masters and Mentors', examining the diversity, artistry and glass making techniques of the thirty artists who graduated from Monash University's Department of Fine Arts Glass Studio over the past thirty years. 
The exhibition will be officially opened by renowned Glass Artist, Richard Morrell, one of the founding fathers of the Australian Contemporary Art Glass Movement, as well as full time lecturer and demonstrator in the Monash hot glass studio from 1980 to 1981.
Peter Kolliner OAM, Director of Kirra Galleries said, "the exhibition is a celebration and recognition of the development of the world class contemporary art facility at Monash University, which has played a significant role in the continuing development of contemporary glass art in Australia."      
"Many of the artists who have graduated from Monash throughout their careers have inspired and mentored the next generation of graduates who have then gone on to forge careers as glassmakers and artists of recognition both nationally and internationally."
"Included in this exhibition are some talented graduates whose artistic endeavours ensure that the Monash Momentum continues."
Each year Kirra Galleries awards the Kirra Prize for Excellence in Glass to a graduating student of Monash University's Department of Fine Arts Glass Studio, which includes an opportunity for the artist to exhibit for one month in the Gallery at Federation Square.
The 17th Annual International Sculpture Objects & Functional Art Fair - SOFA Chicago 2010, will take place at Chicago's historic Navy Pier Friday, 5 November - Sunday, 7 November 2010 and again will provide a major opportunity for Kirra Galleries to promote twelve of Australia's most talented, emerging and established Glass Artists.
For six years Kirra Galleries, through its policy of showcasing Australian Contemporary Glass Artists overseas, has taken the work of some forty artists to the internationally renowned SOFA exhibition. This has resulted in Kirra Galleries being included in the itineraries of individual collectors and groups of collectors from the USA when visiting Australia.   
Monash Momentum 2010
Participating artists:
Ebony Addinsall, George Aslanis, Emma Borland, Lisa Cahill, Tali Dalton, Pauline Delaney, Marcus Dillon, Holly Grace, Tegan Hamilton, Tony Hanning, Brian Hirst, Annabel Kilpatrick, Brent King, Jennifer Ashley King, Amanda Louden, Ruth McCallum-Howell, Kristin McFarlane, James McMurtrie, Nadia Mercuri, Richard Morrell, Nick Mount, Turiya Orme, Brenda Page, Julio Santos, Crystal Stubbs, Suzannah Terauds, Bethany Wheeler, Maureen Williams, Patrick Wong and Robert Wynne.
Kirra Galleries - Federation Square
Monash Momentum - Masters and Mentors
Featuring the work of 30 Monash graduates
Opening: Thursday 14 October 2010
Open: 10am to 6pm, 7 days per week
Media Enquiries:
Ron Smith, Corporate Media Communications, Kirra Galleries - Mobile: 0417 329 201