Media Release
Thursday, 09 September 2010 15:49
Media Alert
Ancient Glass Blowing Demonstration
 
11.30am Friday 10 September 2010
The Atrium, Federation Square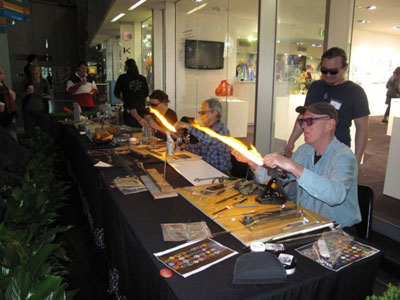 2009 Flame on Glass demonstration

Some of Australia's leading glass artists specialising in flame art will turn the clock back several centuries today when they demonstrate the ancient form of glass art to officially launch the Eighth National Flame on Glass Exhibition in Kirra Galleries at Federation Square.
Glass blowing is a glass forming technique that was invented by the Phoenicians at approximately 50 BC somewhere along the Syro-Palestinian coast.
The ancient form of glass art, lampworking, is a technique which uses a gas fuelled torch to melt, manipulate and shape rods and tubes of clear and coloured glass.
People visiting Fed Square over the weekend will be able to see the demonstrations that are aimed at providing the public with access to lampworking techniques to create greater understanding of the ancient art form.
Apart from the demonstration Kirra Galleries will be displaying a wide variety of the completed works of the 29 artists taking part.
Media Enquiries:
Ron Smith, Corporate Media Communications, Kirra Galleries - Mobile: 0417 329 201
Kirra Galleries - Federation Square
'Flame on Glass 2010'
Featuring the work of 29 Australian Lampworkers
Open: 10am to 6pm, 7 days per week

Lampwork Demonstrations:
10-12th September 2010 - 11am to 5pm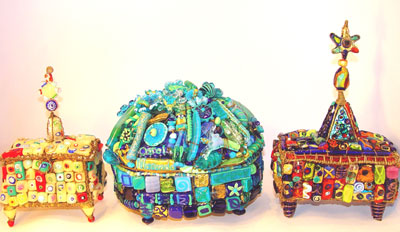 Jewellery Boxes by Carol Marando
Beads by Anne Oberin