Media Release
Tuesday, 20 July 2010 13:56
Kirra Galleries located at Federation Square in Melbourne is set to launch an exhibition of contemporary art glass focused on human activity and its impact on the environment. All members of Federal Parliament have been sent a selection of images of the works.
Peter
Kolliner OAM, Director of Kirra Galleries, said "Human Nature is a powerful and evocative solo exhibition by Victorian based glass artist Crystal Stubbs. 

Given the political debate over the
ETS
and climate change we felt it would be appropriate for Members of Parliament to receive artistic comment on the issues."

  
These inspired works explore the relationship between mankind and the natural world.
Elements of Crystal's works defer to her surroundings and her observations growing up in country Victoria with her parents who are both acclaimed wildlife artists.
In her artist statement Crystal refers to The Egg as "representing the fragile natural world. Human hands and egg cups hold eggs, depicting a strained relationship where nature is forced to conform.
In contrast, the female figure embraces the egg and reflects a protective and nurturing relationship.
Images of endangered birds and feathers symbolise the existence of life. Human Nature aims to open the viewer's eyes to our natural world."
Exhibition Opening: Thursday 22 July 2010
The Exhibition Gallery will be open for viewing between 2.00 - 6.00pm. 
The Official opening is 6.00 - 8.00pm. 
Kirra Galleries,
Federation Square (enter via Atrium)
Cnr Swanston & Flinders Streets, Melbourne
 Media Enquiries: Ron Smith Kirra Galleries Mobile: 0417 329 201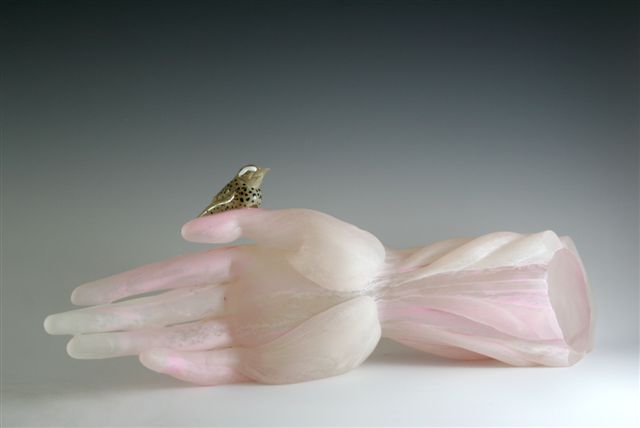 Crystal Stubbs 'Gentle Hand' 
'Check' by Crystal Stubbs - hot formed glass sculpture -
chess pieces depict feral animals overwhelming our fragile 

native endangered species

                   

    
    Crystal Stubbs 'Plume'
  Crystal Stubbs 'In Touch' 
  Crystal Stubbs 
'Wild Goose Chase 1'
    Chrystal Stubbs
'Wild Goose Chase 2'
         Crystal Stubbs 'Birds of a Feather' 
                                    Crystal Stubbs 
'Heavy Handed'