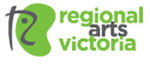 Media Release
Monday, 31 May 2010 00:00
Professor David de Kretser AC, Governor of Victoria, officially launched Regional Arts Victoria's major new initiative Illuminated by Fire at a special event  at the Temporary Village in Flowerdale on Saturday 29 May 2010. This two year program will see artists working in residence with 11 communities across the State to create a local presentation around the themes of fire and resilienc
Also in attendance at the launch were the Honourable Peter Batchelor MP, Minister for the Arts, Ben Hardman MP, Member for Seymour and Parliamentary Secretary for Bushfire Recovery, and Victoria's Emergency Services Commissioner, Bruce Esplin.
The project's Artistic Director,
Donna Jackson
said she is thrilled at the response the project has had to date. "This is a brave project about a difficult subject - how we can live sustainably in the most bush-fire prone region of the world," she said. "Eleven regionally-based artists will work with their communities to create a unique and astonishing piece of art about our fascination with fire, our fear and our dependence on it for our survival."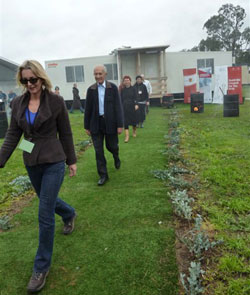 Lindy Allen, Director of Regional Arts Victoria leads
Professor David de Kretser AC, Governor of Victoria 
through the burning fire drums.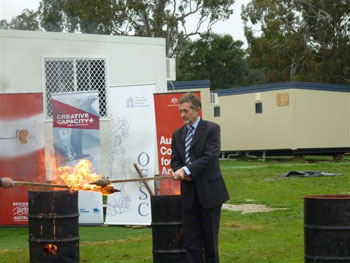 The Honourable Peter Batchelor MP, Minister for the Arts
lights one of the fire drums.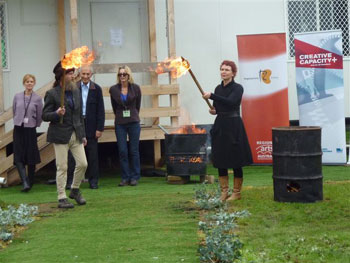 Artist Catherine Larkins of Lakes Entrance prepares to light the fire drum.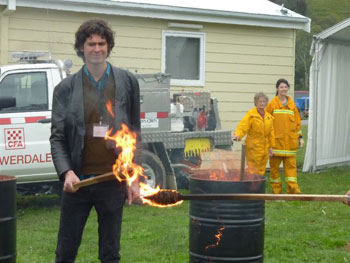 Artist Trevor Flinn from Dunkeld lights one of the fire drums.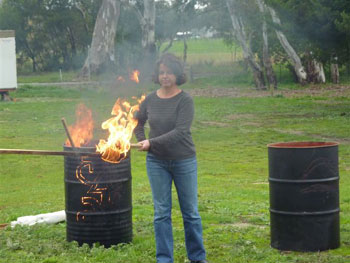 Ballarat artist Tracy Bourne prepares to light the fire drum.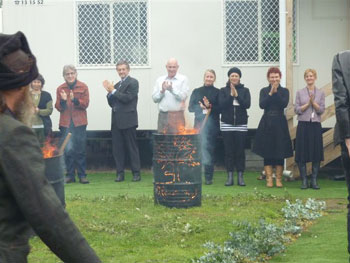 Conclusion of the fire lighting ceremony
Pans on Fire
The steel band "Pans on Fire" composed of over 20 members from the Marysville and Triangle community, with ages ranging from 7 to 70 years, many of who had never played music before (formed after the fire) and now with a repertoire of African, Caribbean, Latin, and Jazz and European folk music, performed at the ceremony.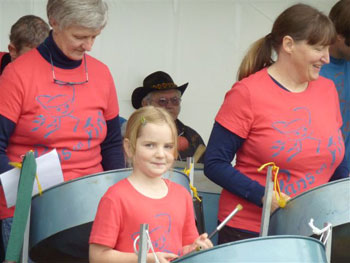 "Illuminated by Fire is an inspired collaboration between communities and artists creating culturally and socially vibrant futures following the bushfires," said Frank Panucci, Director of Community Partnerships at the Australia Council for the Arts. "Artists and communities working together is the driving force behind the Commonwealth Government's new funds to the Australia Council for the Creative Communities Partnerships Initiative. Community arts and cultural development provide a unique way for communities to explore and determine a future based on well being and sustainability."
Media Enquiries:

Ron Smith, Corporate Media Communications Mobile: 0417 329 201