Media Release
Wednesday, 23 September 2020 10:19
Would you take Fifteen Minutes to Check your Backyard Pool is Safe this Daylight Saving?
With summer approaching and families eagerly anticipating a return to backyard pool parties and gatherings after recent restrictions, Kidsafe has urged homeowners to ensure their backyard swimming pools are safe and comply with the regulations, to prevent toddler drownings.
The call comes at the launch of the Kidsafe's annual 'Safe Barriers Save Lives' backyard pool safety campaign, which encourages pool and spa owners to check their barriers at the beginning of daylight saving.
Figures from the Royal Life Saving Society of Australia's national drowning report show that in 2019/20, 12 Australian children aged 0-4 years of age drowned. Swimming pools were the leading location where these incidents occurred, accounting for 50% (6) of all toddler drowning deaths.
Drowning continues to be one of the leading causes of accidental death for Australian children under 5 years of age.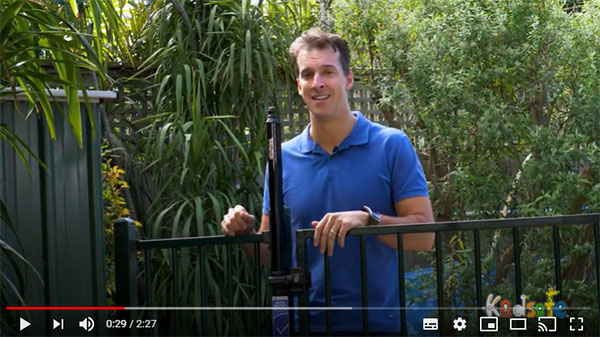 Matt Welsh, Australian Swimming Champion and Kidsafe Ambassador
Jason Chambers, General Manager of Kidsafe Victoria, said whilst Kidsafe could not hold its traditional media launch during the COVID-19 pandemic, the child safety organisation has extended its community awareness and social media campaign to ensure families are prepared and equipped to keep their children safe in and around water.
As part of the campaign, Matt Welsh, Australian Olympic Swimming Champion and Kidsafe Ambassador, features in a video providing vital, simple advice to all pool and spa owners on how to regularly check and maintain their barriers.
While pool and spa barriers are effective in helping to reduce childhood drowning incidents, Mr Chambers said that a large number of drowning deaths are the result of barriers that are faulty, have not been maintained, or are non-compliant with Australian standards.
"It is vital that all homeowners constantly check the safety of their pool and spa barriers in the lead up to the warmer months - a time when there is an increased use of backyard swimming pools and spas. Doing so could save a life."
Mr Chambers said one of the most common dangers leading to drownings in backyard swimming pools involved gates or doors, including those that had become faulty or non-compliant and those that had been propped open for convenience - all which can allow children unsupervised access to the water area.
"Toddlers are attracted to water, however they don't yet understand the dangers that it can pose. They can drown quickly and silently - a split second is all it takes for them to gain unsupervised access to the water area and find themselves in trouble."
Top 5 Issues with pool and spa barriers
Kidsafe has highlighted the top 5 faults or non-compliance issues which are important for all homeowners to regularly check and maintain. These include:
The gate or door is no longer self-closing
The gate or door is no longer self-latching
The gate is propped open
There are gaps, holes or spaces in and under the barrier which a child can get through
There are climbable objects near the pool barrier e.g. BBQ's, outdoor furniture, trees etc.
CEO of the Swimming Pool and Spa Association of Victoria (SPASAVIC), Chris Samartzis, highlighted the importance of pool and spa owners conducting regular checks of their barriers.
"Pools and spas provide endless hours of fun for families. Maintenance and compliance of pool and spa barriers is vital because they are exposed to the extremes of weather all year round which can lead to rust, loose or missing bolts or screws and wear and tear over time."
Top pool and spa safety actions to help keep children safe
As well as a pool or spa barrier that is regularly checked and maintained to ensure it is in correct working order, Mr Chambers said it is also important for parents and carers to have a number of other actions in place to help keep their children safe, including:
Active adult supervision - for toddlers, this means having an adult within arm's reach at all times when in or around water.
Water awareness - Water awareness and learn to swim classes can assist in helping children to become familiar with water, teaching them about water safety and learning how to swim
CPR/First Aid knowledge - Kidsafe encourages all parents and carers to enrol in a CPR/First Aid course and to update their skills regularly. Doing so will assist in ensuring they are equipped to respond if an emergency does arise
Victorian Pool Owners RED Alert Reminder - 5 Weeks Left to Register Your Pool or Spa.
Kidsafe has also issued a reminder to Victorian homeowners about the requirement to register their pool or spa with the local council before the November 1st 2020 deadline, as part of new laws to improve swimming pool and spa safety.
The laws also introduce new inspection and certification requirements for pool and spa owners in Victoria. Further information on these requirements can be found on the Victorian Building Authority website.
Kidsafe Victoria pool and spa safety website
Media Enquiries:
Ron Smith, Media Communications - Mobile: 0417 329 201