Media Release
Tuesday, 18 September 2018 09:56
In 2017/2018, 18 Australian children aged 0-4 years drowned
Australian families are being urged to 'kick a goal for pool safety' by checking their backyard pool and spa barriers in the lead up to the warmer months.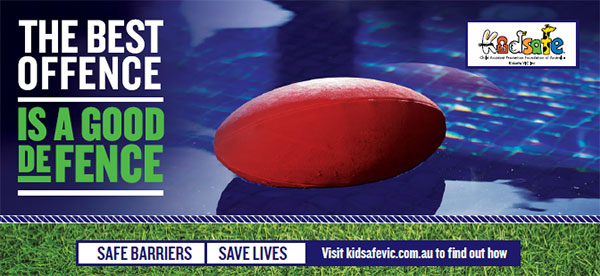 Olympian Matt Welsh OAM, this morning will join Kidsafe Australia to launch the sixth annual 'Safe Barriers Save Lives' backyard pool safety campaign at Victoria Park, the historic home of the Collingwood Football Club.
AFL great Rodney Eade features in the campaign video, providing a ¾ time pep talk to his team to remind them that when it comes to pool safety 'the best offence is a good defence'.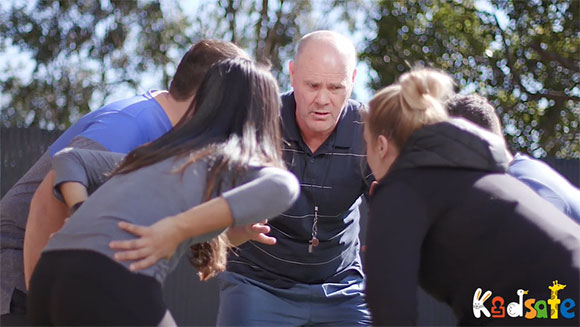 Rodney Eade with a group of parents
Download Video for Coaching Vision
https://youtu.be/-iNv1I3nQvQ
As part of the campaign, Kidsafe is urging all pool owners to check their barriers and set their backyard pool defence at the beginning of daylight saving on Sunday 7 October 2018.
Figures released last week in the Royal Life Saving Society of Australia's National Drowning Report show that in 2017/18, 18 Australian children aged 0-4 years drowned, a reduction of 38% on the previous financial year. The majority of these incidents (67%) occurred in swimming pools.
Jason Chambers, General Manager of Kidsafe Victoria said, "Despite significant reductions in toddler drowning deaths over time, drowning continues to be one of the leading causes of accidental death for Australian children under 5 years of age."
While safety barriers can be effective in reducing the risk of backyard pool drowning incidents, evidence suggests that a large number of drowning deaths are the result of barriers that are faulty, or non-compliant with Australian standards.
"Common faults or non-compliance issues include gates and doors that are no longer self-closing or latching, gates that are propped open and climbable objects near the barrier - all of which can provide children with unsupervised access to the water area," Mr Chambers said.
Kidsafe campaign ambassador Matt Welsh OAM knows the benefits that learning to swim and growing up around water can provide for children. As a father of four - with a fifth child on the way - he also understands the risks that swimming pools and spas can pose if strategies aren't put in place to keep children safe.
"There is no better use of 15-20 minutes of your time than setting your defence for the warm summer months ahead and checking the safety of your pool barrier. By doing so, you could save a child's life," said Mr Welsh.
CEO of the Swimming Pool and Spa Association Victoria, Chris Samartzis, highlighted the importance of pool and spa owners conducting regular checks of their barriers, saying "Pool and spa barriers are exposed to the extremes of weather all year round which can lead to rust, loose or missing bolts or screws and wear and tear over time. It's critical that pool and spa owners regularly check and maintain their barriers to ensure they are safe and fully compliant."
While pool and spa barriers play an important role in reducing the risk of childhood drowning, Kidsafe is reminding the public that their pool defence should also include a number of other actions.
"Children drown quickly and silently. Together with a compliant pool barrier that is regularly checked and maintained, your home pool defence should also include active adult supervision of children in and around water, water awareness and first aid knowledge to keep your family safe this season," said Mr Welsh.
For further information on the campaign and to access resources including Life Saving Victoria's home pool safety checklist, please visit www.kidsafevic.com.au
Media Enquiries:
Ron Smith, Kidsafe Victoria - Mobile: 0417 329 201
Background information
Key messages
:
Drowning is one of the leading causes of accidental death for children under 5 in Australia, with backyard pools being the most common location for drowning incidents to occur
20 seconds is all it takes for a toddler to drown
Simply having a pool/spa barrier in place isn't enough on its own to keep children safe. A large number of swimming pool drowning incidents are a result of faulty or non-compliant pool/spa barriers
Regular maintenance is necessary. It takes approximately 15-20 minutes to check your barrier thoroughly using LSV's home pool safety checklist
Active adult supervision is the key to keeping children safe around water
Need help: Visit www.kidsafevic.com.au
Common issues with pool barriers include:
Gates and doors that don't self-latch or self-close
Climbable objects near the barrier e.g. pot plants, chairs, pool pumps near the pool barrier which could allow a child to climb over the fence
Excess space under the fence, and;
Misuse (e.g. propping the pool gate open)