Media Release
Friday, 16 March 2018 10:12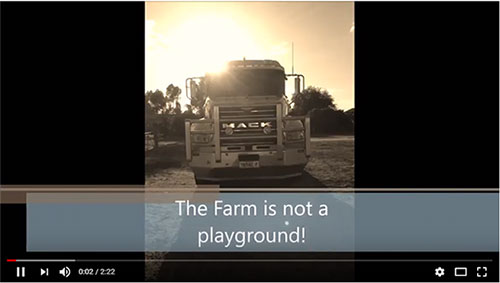 Farm Safety Creative Competition Video - Year 5 - 6

Winner: Dylan from Woomelang Group School in Woomelang

https://www.youtube.com/watch?v=VQ-gebtR80A

The Farm Safety Creative Competition, which was supported by WorkSafe Victoria, invited primary school aged children throughout the State to create a video, illustrated story or poster on the theme 'staying safe on the farm'.

Kidsafe Victoria General Manager, Jason Chambers said statistics from the Victorian Injury Surveillance Unit show that in 2015/16, 491 Victorian children aged 0-14 years were treated in hospital for an injury that occurred on a farm.

"Common injury hazards for children on farms include machinery, vehicles (e.g. tractors and motorbikes), animals, water hazards (e.g. dams, rivers, creeks and animal drinking troughs) and poisons (e.g. pesticides)", said Mr Chambers.

"Farms typically combine the family home and an industrial workplace, which means children are exposed to a wide range of hazards that aren't present in urban home environment."

Mr Chambers said that being aware of potential injury hazards and measures that can be put in place to reduce the risk is not only vital for families that live on farms, but also those who are visiting a farm. This is particularly pertinent with Easter and the upcoming school holidays when many families may be visiting relatives on a farm or staying on a rural property.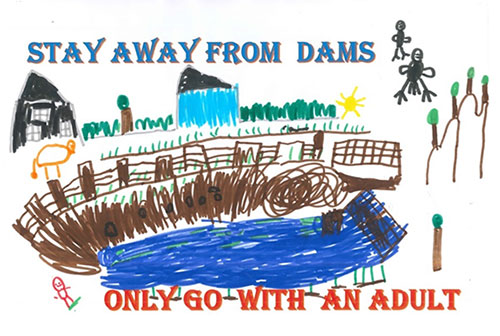 Winner of the Prep - Grade 1 Poster
Winner - Darcy from Newham Primary School in Newham


The winning competition entries will be used as part of a month long social media campaign through Kidsafe Victoria's Facebook page, to raise awareness of the various child injury hazards that exist on farms and practical strategies that can be employed to reduce the risks.

To view the winning entries in the Farm Safety Creative Competition please visit https://www.kidsafevic.com.au/home-safety/farm-safety-creative-competition

Media Enquiries:
Ron Smith, Corporate Media Communications, Kidsafe Victoria - Mobile: 0417 329 201