Media Release
Friday, 11 August 2017 09:02
n Victoria approximately 19 children die
and
over 100,000 are treated in hospital
as a result of unintentional injuries. The majority of these injuries and deaths are preventable.
Kidsafe Victoria today will officially open Victoria's only dedicated Child Injury Prevention Hub at the new Monash Children's Hospital.
The new Centre will be officially opened this morning at Monash Children's Hospital by the Victorian Minister for Families and Children, the Hon Jenny Mikakos with the assistance of some young children who are keen to investigate the interactive Sesame Street displays.
Erica Edmands, President of Kidsafe Victoria said the opening of the new Child Injury Prevention Centre, made possible by many sponsors, is a major milestone for Kidsafe Victoria.
"The location at the Monash Children's Hospital will provide parents, carers, hospital staff and early childhood services with central access to life saving information," said Ms Edmands.
"For nearly four decades, Kidsafe has pioneered and promoted many areas in child injury prevention resulting in government policy. Kidsafe plays a vital role in community education, advocacy and the development of legislation, such as the existing conversation regarding pool barrier reforms in Victoria," Ms Edmands said.
Melanie Courtney, CEO of Kidsafe Victoria said the new Centre included four interactive Child Injury Prevention Hubs focused on home, road, water and safe play.
Ms Courtney said the hubs had been designed to engage both children and parents with interactive online safety games, dress up areas, safety demonstrations including a safe sleeping and child car restraint display and a wide range of resources.
"The new Centre will increase opportunities to expand Kidsafe Victoria's interaction with the community, as well as facilitate injury prevention initiatives in partnership with Monash Children's Hospital."
Hospital Displays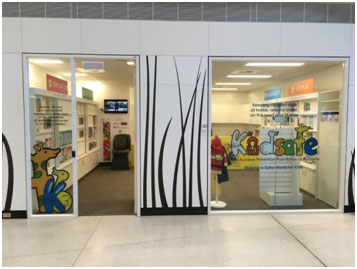 The Kidsafe Child Injury Prevention Centre
| | | |
| --- | --- | --- |
| Pool Gate Display | Children's Safety Dress Ups | Child Car Restraint Display |
Child Injury
Approximately 150 children die and 58,000 are hospitalised every year due to unintentional injury in Australia. This means that more Australian children die of injury than die of cancer and asthma combined.
Every year in Victoria approximately 19 children die and over 100,000 are treated in hospital as a result of unintentional injuries. The majority of these injuries and deaths are preventable.
Common causes of child injury include
:
Falls - from things such as nursery furniture and equipment (e.g. prams, high chairs, change tables), household furniture (e.g. cots, beds, chairs), playground equipment and wheeled devices (e.g. bikes, scooters).
Hit/Struck/Crush - finger jambs in doors and household objects such as televisions and bookcases falling on top of children.
Transport - children involved in motor vehicle incidents, pedestrian incidents and driveway run overs.
Cutting/Piercing - cuts from glass and other sharp household items (e.g. knives, scissors).
Burns and Scalds - from hot tap water, hot beverages such as tea and coffee and hot food including soup and 2 minute noodles.
Poisoning - from common medications such as paracetamol and household cleaners (e.g. bleach, dishwashing detergent, toilet bowl cleaners).
Drowning - 20 seconds and a few centimetres of water is all it takes for a toddler to drown. Backyard pools are the most common location where Australian toddlers drown.
Media Enquiries:
Ron Smith, Corporate Media Communications, Kidsafe Victoria - Mobile: 0417 329 201