Media Release
Monday, 23 May 2016 12:45
Kidsafe Victoria has successfully pioneered child injury prevention in Victoria for over 35 years with campaigns on a range of topics including child car restraints, children left unattended in cars, backyard pool safety and driveway safety. In 2017 Kidsafe Victoria will enter a new era when they open their new Community Support Centre at Monash Children's Hospital.
Kidsafe Victoria, a not-for-profit organisation dedicated to the prevention of unintentional injuries and death to children aged 0-14, is seeking help from the public to help fund the fit out of the new Community Support Centre through a crowdfunding campaign which will be run over the next month. Each year hundreds of thousands of Victorian families have contact with Kidsafe Victoria's programs, resources, campaigns and events.
Kidsafe Victoria CEO, Melanie Courtney, said the Kidsafe Community Support Centre will be a hub for parents and carers in the South East, where they can visit and receive expert child safety information, resources, advice and support. A range of safety products will also be available for purchase.
"We are currently working in a secluded office in Fitzroy, with no space for direct interaction with parents and carers.
"The new Community Support Centre will allow Kidsafe to have a physical presence in the Victorian community, granting us direct exposure to parents and carers in the South East."
Kidsafe Victoria has already secured carpet, walls, lights, painting and the electricals for the shell space, but still need to raise $15,000 to cover the cost of essential items such as office joinery, shelving and equipment.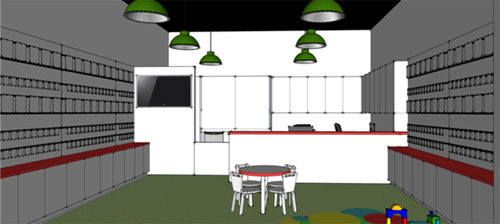 An Architect's impression of the Kidsafe Victoria Community Support Centre

How Companies and the Community can help:
1. Donate to Kidsafe Victoria's Community Support Centre Appeal (visit the fundraising page for details on rewards), https://chuffed.org/project/kidsafe-victoria-community-support-centre-appeal

2. Place the Community Support Centre Appeal web banner on your organisation's website (Appendix A) and link to the crowdfunding page listed above.

3. Share Kidsafe Victoria's fundraising appeal on social media. We have drafted some posts that you can use below, or you can share/retweet posts about our crowdfunding campaign directly from our Twitter or Facebook account.
Twitter: Help Kidsafe make a safer world for kids and support their fundraising appeal to move to Monash Children's Hospital: http://bit.ly/1OAP2bb
Facebook: Kidsafe Victoria is moving to the Monash Children's Hospital in 2017. The new Community Support Centre will be a hub for parents and carers seeking child safety resources and advice. Kidsafe is currently raising money for the fit-out of the new space. To find out more about how you can help, please visit http://bit.ly/1OAP2bb
Media Enquiries:
Ron Smith, Media Communications, Kidsafe Victoria - Mobile: 0417 329 201