Media Release
Thursday, 21 April 2016 11:25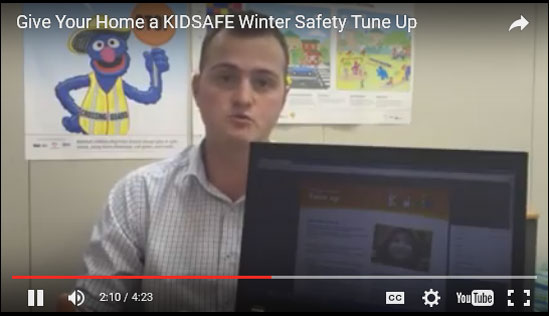 Jason Chambers, Acting CEO, Kidsafe Victoria speaking on YouTube about the
Kidsafe Winter Safety Tune Up. Click here to listen.
Kidsafe Victoria Acting CEO Jason Chambers highlighted the importance of identifying and addressing common child injury hazards in the home, particularly during winter when children traditionally spend more time indoors.

'The colder weather means that many families will be spending more time indoors. Household items that can pose a burn and scald hazard to children like heaters, open fires and hot water, are also increasingly used during this time.'
'With the home being the most common place where children are injured, we are encouraging all parents and carers to undertake a home safety tune up to help keep their children safe this winter', said Mr Chambers.
Kidsafe Victoria has released a free 'Home Winter Tune Up' fact sheet to assist parents and carers to identify and guard against common home winter child injury hazards. The fact sheet urges parents and carers to consider the following winter safety tips:
Smoke alarms: All houses are required by law to have smoke alarms installed; batteries should be changed annually and alarms tested monthly.
Home fire escape plan: All homes should have a fire escape plan that is practiced regularly with all members of the family.
Hot water temperature: Hot water burns like fire; have your hot water delivery temperature checked by a licensed plumber and reduced to 50°C.
Heater Safety: All heaters should be serviced by a professional at least every 2 years (or more if recommended by the manufacturer) including an inspection of the chimney and flue.
Electric blankets and hot water bottles: Hot water bottles and electric blankets are not recommended for use by children.
Poisoning: Poisons should be stored out of the reach and sight of children, preferably in a locked cupboard at least 1.5 metres off the ground.
Curtain and blind cords: Check your home for loose or looped curtain and blind cords and secure any hazardous cords out of reach of children with cleats or cord tensioning devices.
Television tip overs: Make sure both the stand and TV are properly secured to the wall and that the TV is pushed as far back on the stand as possible, out of a child's reach.
For further information and to access the full list of Home Winter Tune Up fact tips, please download Kidsafe Victoria's free fact sheet via http://www.kidsafevic.com.au/images/stories/pdfs/Winter_Tune-up.pdf
Media Enquiries:
Ron Smith, Media Communications, Kidsafe Victoria - Mobile: 0417 329 201