Media Release
Thursday, 03 December 2015 09:22
The warning comes as recent figures from Royal Life Saving Society of Australia's National Drowning report showed that over half of all toddler drowning incidents in 2014/15 occurred in backyard pools.
The Victorian Drowning Report 2014/15 released by Life Saving Victoria on Monday also revealed that for every drowning death of a child 0-4 years, there are a further 16 non-fatal drownings.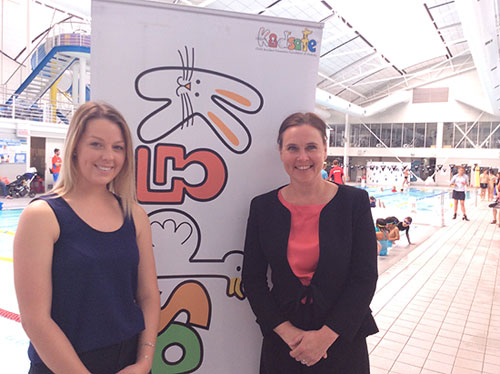 Left: Bree Furlong, Kidsafe Victoria with the Minister for Emergency Services,
the Hon. Jane Garrett, at the launch of Water Safety Week.
Kidsafe Victoria Acting CEO, Jason Chambers, highlighted the importance of regularly checking and maintaining pool barriers to ensure that they are in proper working order.
"All pool and spa fencing will experience exposure to extremes of weather and wear and tear over time including rust, missing bolts or screws and damage. Therefore it is important that it is regularly checked and maintained."
"Evidence suggests that a large number of drowning deaths in pools are as a result of fencing that is faulty or non-compliant with Australian Standards", said Mr Chambers.
Kidsafe Victoria's 'Closing the Gate on Backyard Pool Drowning' campaign was launched in September by former Olympian and father of three, Matt Welsh. As part of the campaign, a video has been developed to guide pool and spa owners through some simple pool and spa barrier safety checks that they can perform at home themselves.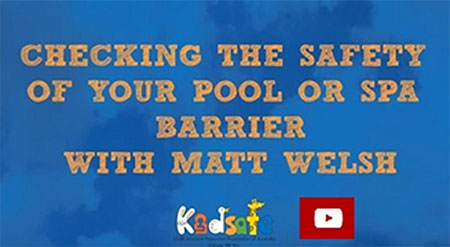 Click here to view the video
Mr Chambers noted that along with checking and maintaining pool barriers, active adult supervision of children around water played a vital role in preventing drowning incidents.
"Toddlers can drown quickly and silently, which is why they should always be kept within arm's reach around water", said Mr Chambers.

Kidsafe Victoria's 'Closing the Gate on Backyard Pool Drowning' campaign calls for all pool and spa owners to visit www.kidsafevic.com.au/water-safety/pool-fence-safety and utilise the online home pool safety assessment tool, developed by Life Saving Victoria, to check the safety of their pool areas.
Kidsafe Victoria's summer pool safety tips:
Never take your eyes off children around water; if you have to leave the water area for any reason, take the children with you.
Appoint an adult as a designated supervisor, including at BBQ's and pool parties. Never leave toddlers in the care of older children.
When you are supervising toddlers, ensure that you are within arms' reach at all times.
Ensure that your pool safety barrier is secure and in proper working order.
Never prop the pool gate open, this allows children easy and often unsupervised access to the pool area.
Learn CPR and update your skills regularly. Resuscitation posters kept near pools are a good reminder.
Water Safety Week runs from 29th November - 6th December 2015.
For more information on the Victorian Play it Safe by the Water committee please visit http://www.watersafety.vic.gov.au/.
Media Enquiries:
Ron Smith, Media Communications, Kidsafe Victoria - Mobile: 0417 329 201