Media Release
Tuesday, 29 September 2015 14:52
Kidsafe Victoria has released an online information kit for estate agents, property managers and landlords to assist them in providing information and resources to tenants as in response to evidence suggesting families renting property could be at greater risk of experiencing a backyard pool drowning tragedy.

In 2014/15, over half of all toddler drowning incidents in Australia occurred in a backyard pool (14 incidents - 54%).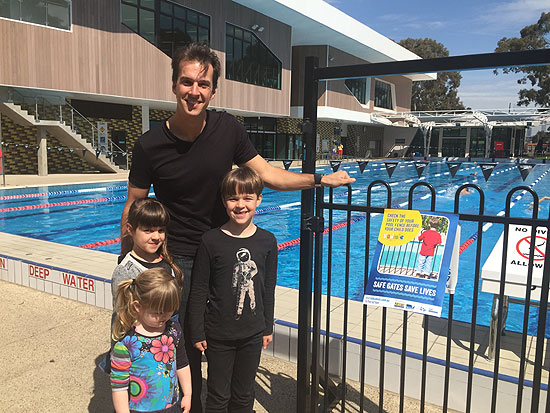 Matt Welsh with his children Lola, Eve and Sam checking the safety latch on the pool gate at the
launch of 'Closing the Gate on Backyard Pool Drowning' at the Hawthorn Aquatic and Leisure Centre.
Robert Caulfield, Vice President of Kidsafe Victoria, said "Landlords have a legal requirement to install and maintain pool fences and gates that meet the relevant Australian Standards and tenants are required to ensure that the pool fence is maintained and operating correctly".
"The danger with rental properties is that this can be overlooked as there are no permanent residents at the property. The issue of urgency to repair and maintain pool fences or gates can also be overlooked through lack of communication about these issues", said Mr Caulfield.
If pool gates or fences are faulty or have become damaged, unsafe or insecure, Kidsafe Victoria recommends that tenants ensure their children cannot gain unsupervised access to the water area and immediately contact their landlord or agent for urgent repairs.
"All pool and spa barriers will experience exposure to extremes of weather and wear and tear over time, including rust, missing bolts or screws and damage. Therefore it is important that they are regularly checked and maintained, especially in rental properties", said Mr Caulfield.
Kidsafe are encouraging all estate agents, property managers and landlords to visit http://www.kidsafevic.com.au/water-safety/pool-fence-safety/renting-or-leasing-a-property-with-a-pool today, download their free copy of the backyard pool and spa information kit and provide information and resources to their tenants.


Life Saving Online Kidsafe Resources for Pool Owners
The campaign calls for all pool and spa owners to visit
http://www.kidsafevic.com.au/water-safety/pool-fence-safety
and utilise the online resources, including the home pool safety assessment tool developed by Life Saving Victoria, to check the safety of their pool areas.
This includes common pool barrier faults/non-compliance issues such as:
Gates that don't self-latch or self-close.
Climbable objects in the 'non climbable' zone outlined in the Australian Standards (e.g. pot plants, chairs, pool pumps near the pool fencing which could allow a child to climb over the fence).
Excess space under the fence, and;
Misuse (e.g. propping the pool gate open).
Media Enquiries:
Ron Smith, Kidsafe Victoria - Mobile: 0417 329 201