Media Release
Wednesday, 09 September 2015 16:36
Kidsafe Victoria's multilingual fact sheets are available in 11 languages including English, Serbian, Arabic, Somali, Chinese, Turkish, Croatian, Vietnamese, Macedonian, Karen and Chin-haka. These fact sheets were promoted today on social media by Kidsafe Victoria, the Mayor of the City of Greater Geelong, Cr. Darryn Lyons and members of the community, as part of the City of Greater Geelong's child injury prevention program.
Families from the Karenni community, who have migrated from Burma, were guests at the launch at the Norlane Child and Family Centre in Geelong.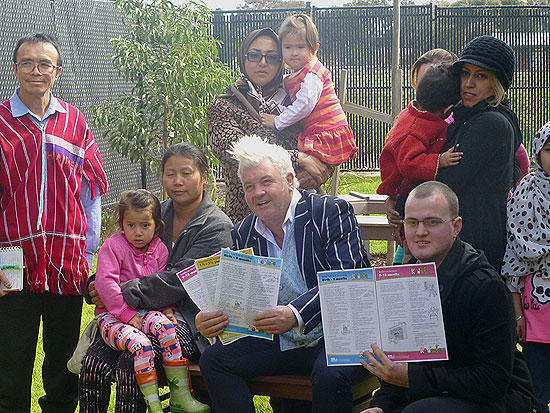 Left: Augustino Moedu, the leader of the Karenni community of Geelong, along with members of the Karenni community,
Cr. Darryn Lyons, Mayor, City of Greater Geelong and Jason Chambers, Project Manager, Kidsafe Victoria at the Geelong launch.
Kidsafe Victoria's Outreach Program provides critical home safety information sessions to a wide range of groups including early childhood centres, community organisations and parents groups. In 2014/15 over 190 Community Outreach Program presentations were conducted.
Jason Chambers, Kidsafe Victoria Project Manager said, "The purpose of the sessions is to provide attendees with neutral, evidence based child injury prevention information to facilitate the uptake of injury prevention strategies in the home - the most common location where child injuries occur."
A number of these sessions are targeted towards newly arrived and vulnerable families. Evaluation results reveal that 73.4% of attendees have changed their behaviour as a result of attending one of Kidsafe Victoria's sessions.
Approximately 260 children die and 58,000 are hospitalised every year due to unintentional injury in Australia. This means that more Australian children die of injury than die of cancer, asthma and infectious diseases combined. In Victoria alone, approximately 29 children die and a further 81,000 are treated in hospital as a result of unintentional injuries every year.
Kidsafe Victoria's Multilingual Ages and Stages fact sheets, which are available for free download online, compliment the face to face presentations provided as part of the Community Outreach Program.
Mr. Chambers said that the fact sheets provide valuable child injury prevention information for parents, grandparents and staff including early childhood educators and maternal and child health nurses.
"By including One Link to the fact sheets, early childhood centres, hospitals and local community groups can provide access to and share this important information with their local communities", said Mr. Chambers.
Click link below for all Fact Sheets
Kidsafe Ages and Stages Multilingual Fact Sheet One Link
Media Enquiries:
Ron Smith, Media Communications, Kidsafe Victoria - Mobile: 0417 329 201