Media Release
Tuesday, 14 July 2015 14:15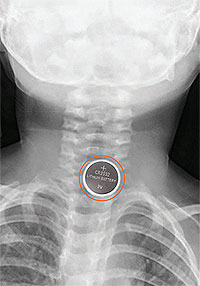 An x-ray of a child's throat showing an ingested button battery.
Kidsafe Victoria has today issued a red alert about the dangers of button batteries, warning parents and carers that they can cause severe life-threatening injuries if swallowed by children.
Jason Chambers, Kidsafe Victoria Project Manager, said an estimated five children per week present to an emergency department with an injury related to a button battery. Children under five years of age are at greatest risk.
"If swallowed, these coin sized batteries can get stuck in a child's throat - the chemical reaction between saliva and the battery causes an electrical current which can burn through the oesophagus in as little as two hours, causing severe and life threatening injuries", said Mr Chambers.
Button batteries are found in many common household items including remote controls, calculators, bathroom scales, car keys, toys, watches, talking books/cards and flameless candles.
Mr Chambers said that button batteries are often 'invisible' to adults, as many of these devices come with the batteries already installed.
Button battery safety tips
Examine devices and make sure the battery compartment is secure.
Keep coin-sized button batteries and devices out of the sight and reach of children.
Dispose of old button batteries immediately.
If you suspect a child may have swallowed a button battery, go to the hospital emergency department immediately.
Tell others about this threat and share these steps.
Parents and carers can access more information about how to reduce the risk posed by button batteries via www.kidsafevic.com.au/home-safety/button-batteries

Media Enquiries:
Ron Smith, Corporate Media Communications, Kidsafe Victoria - Mobile: 0417 329 201