Media Release
Wednesday, 08 July 2015 11:14
Kidsafe Victoria has urged parents and carers to conduct a safety audit of their homes to identify potentially poisonous items.
The call follows media reports of a three year old girl who was admitted to hospital suffering severe alcohol poisoning after ingesting an alcohol based hand sanitiser at home.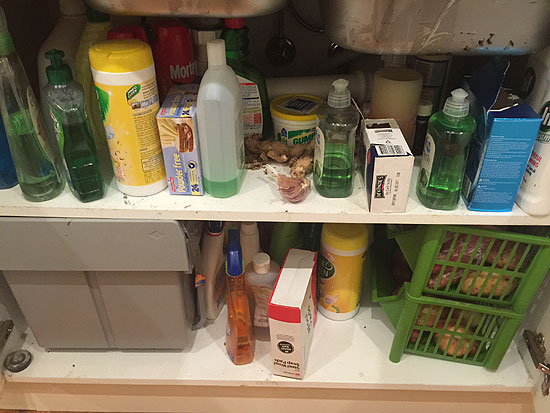 Typical cupboard under the kitchen sink.
Kidsafe Victoria Project Manager Jason Chambers said, "The traditional convenient storage of household cleaners, dishwashing and clothes washing powders, tablets or liquids under kitchen and laundry sinks can create a toxic and poisonous hazard that is easily accessible by babies and toddlers.
'It is important to realise that children who ingest cleaning products can suffer severe and long term consequences."
In 2014, the Victorian Poisons Information Centre received 15,122 calls (approximately 41 calls per day) about exposure to a poisonous substance involving children under 5 years of age.
Kidsafe Victoria are urging all parents and grandparents who have grandchildren visiting, to conduct an audit of what is stored in areas of their home such as under the kitchen and laundry sinks, to identify potentially poisonous items.
Mr Chambers said that to help reduce the risk of poisoning, all poisonous products should be stored out of the sight and reach of children, at least 1.5 metres off the ground in a lockable cupboard.
"It is important that medications are stored in a separate safe area away from other poisonous products such as household cleaners.
"Parents should also remember that child resistant containers are not child proof - they are designed to be difficult for children to open, but not impossible."
Mr Chambers said that it was not just inside the home where care needed to be taken, with outside areas including sheds and garages common storage areas for poisonous or toxic materials including pool chemicals, mower fuel, paints, solvents and pesticides.
Kidsafe Victoria has released a FREE safety fact sheet on its website for parents and carers, with tips and advice on how to reduce the risk of child poisoning - http://www.kidsafevic.com.au/home-safety/poisoning
Common household poisons

Cleaning Products:
Bleaches, dishwasher powders, oven cleaners, drain cleaners, toilet bowl cleaners, hand sanitisers, methylated spirits and turpentine.
Medications:
Over the counter medications such as paracetamol and cough and cold medications, as well as prescription medications such as antidepressants and blood pressure drugs.

Other Household products:
Essential oils, herbicides, cosmetics (e.g. nail polish remover) and some car cleaning products.
What to do if you think your child has ingested a poisonous substance:
Never try to induce vomiting.
Pick up the product container and take it with you to the phone - the Poisons Information Centre will want to know what ingredients are in the product.
Phone the Poisons Information Centre on 13 11 26 (24 hours a day, Australia wide). They will then advise you on what to do next.

Media Enquiries:
Ron Smith, Corporate Media Communications, Kidsafe Victoria - Mobile: 0417 329 201