Media Release
Wednesday, 01 July 2015 11:20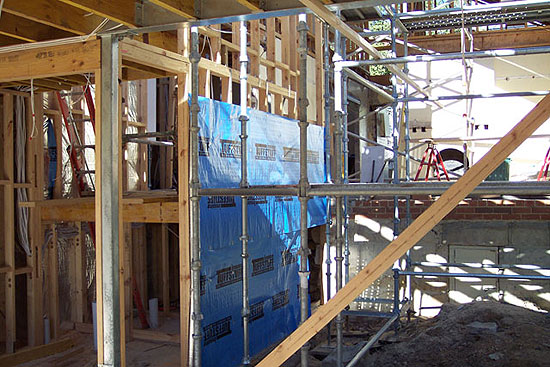 High on the Kidsafe renovation checklist is safety around power tools, potentially poisonous substances (e.g. paints and cleaners) and driveways with vehicles such as trucks, utes and vans frequently visiting to the home to deliver equipment and supplies.
According the Australian Bureau of Statistics, in the last financial year Victorian's spent $2.15 billion on home renovations, the highest of any state or territory.
Jason Chambers, Kidsafe Victoria Project Manager, said that renovations or extensions can expose children to a wide range of hazards that aren't usually present in the home.

"Before any work begins on a renovation or extension, parents should research and plan to ensure their family's safety," said Mr Chambers.

"With a major renovation, sometimes the safest option is to move the family out of the home while the works are undertaken."
Kidsafe Victoria recommends that home owners talk to tradespeople about potential hazards that might be present while they are working on the renovation, and appropriate safety measures that can be taken to reduce the risk of injury to children.
Kidsafe Victoria has released a set of renovation safety tips to assist parents and carers to reduce the risk of injury to their children.
Kidsafe Renovation Safety Tips

Supervision
It is vital children are closely supervised by an adult. If you are undertaking the renovation or building work yourself, consider having someone mind your children.

Tools, Equipment and Furniture
Unplug all power tools after use and always ensure they are stored safely out of the sight and reach of children.
Pack up at the end of each day, storing potentially harmful objects out of reach. Clean the area and make sure there is no debris such as loose nails. It's a good idea to ensure children are wearing shoes in case sharp items remain on the floor or have been dropped during delivery or removal of materials.
Never leave upstanding ladders unattended.
Be aware of noisy power tools that may damage your child's hearing.
When moving furniture such as television cabinets, bookcases and drawers, ensure items are placed on a stable surface and can't tip over on to a child.

Poisonous Substances
Ensure poisonous substances such as paint, methylated spirits and household cleaners are stored safely out of reach of children, at least 1.5m above floor level, in a locked cupboard.
If using products that release dangerous fumes, relocate children until the fumes have dispersed.
Dangerous materials such as asbestos or lead paint should be removed by professional contractors who are qualified to do so.

Water Safety
Children can drown in as little as a few centimetres of water, so always empty buckets of water after use.
Ensure children's access to areas such as the bathroom, laundry and backyard pool or spa can still be restricted during renovations.

Driveway Safety
With vehicles such as trucks, utes and vans delivering equipment and supplies, your driveway will be a very chaotic and dangerous place for children.
Ensure they are kept safe by:
Restricting their access to the driveway.
Making sure they have a safe place to play well away from the driveway or delivery area.
Having an adult actively supervise them (holding hands) at all times around the driveway.
Use Renovation to Increase Safety around your Home
Renovating or extending can also be an opportunity to install safety products around your home to keep children safe after renovations have been completed.
Some safety products to consider include stair gates, curtain and blind-cord safety kits, finger-jamb protectors on doors, TV safety straps and lockable poisons cupboards in the bathroom and kitchen.
Media Enquiries:
Ron Smith, Corporate Media Communications, Kidsafe Victoria - Mobile: 0417 329 201