Media Release
Thursday, 30 April 2015 09:58
Social media could be set to play a greater role in road safety awareness, with Kidsafe Victoria urging people to take a 'Safie' with their phone and share this as part of the United Nations Global Safety Week.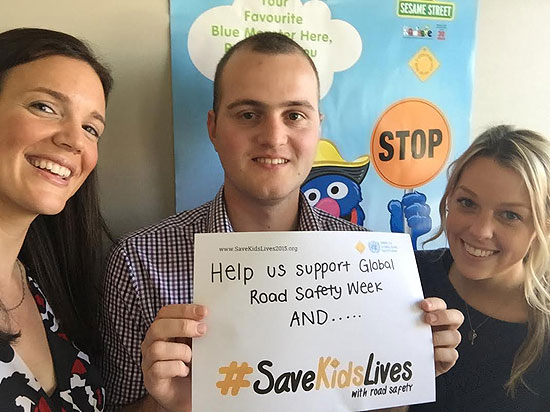 The Kidsafe Victoria 'Safie'

Kidsafe Victoria President, Erica Edmands said, "Road incidents are one of the largest causes of death for children around the world, with more children killed in road collisions than from diseases like Malaria or AIDS. Somewhere in the world, a child is lost to a road incident every four minutes."
According to the RACV In the next 24 hours, around 4,800 Australians will be involved in road crashes - 550 will be injured and four will die.
Ms Edmands said this year, the focus of the campaign is on children and the increasing burden road trauma is placing on communities across the globe.
"A serious injury to a child can mean a lifetime of suffering."
Ms Edmands said that Kidsafe Victoria has joined the call to encourage Victorians to take a 'Safie' using the United Nations Sign Board #SaveKidsLives and pass it on to family and friends.
"There are simple steps we can all take, such as actively supervising children around roads and driveways, ensuring they are seated in a fitted and properly installed restraint for every car trip and wearing a helmet when riding any wheeled device," Ms Edmands said.
Global Road Safety Week operates on the principles of the Decade of Action for Road Safety 2011-2020 and is managed by members from the United Nations Road Safety Collaboration.
Support the campaign:
Sign up to support the Declaration for Global Road Safety.
Take a 'safie' using the signboard on the Save Kids Lives website and email it to Kidsafe Victoria or post it to Facebook and Twitter with the hashtag #SaveKidsLives. For examples of 'Safies', visit the website.
Share Kidsafe Victoria's social media posts during Global Road Safety Week to raise awareness of the issue
For more information on Global Road Safety Week and the #SaveKidsLives campaign, please visit www.savekidslives2015.org
Media Enquiries:
Ron Smith, Corporate Media Communications, Kidsafe Victoria - Mobile: 0417 329 201