Media Release
Saturday, 03 January 2015 00:00
Erica Edmands, President of Kidsafe Victoria, said, "Kidsafe has been campaigning regarding this issue for over a decade. Whilst it is now receiving more publicity than ever, the number of children left in hot cars has increased."
Tests carried out by Ambulance Victoria reveal that even on a 29-degree day, the temperature inside a car can reach 44 degrees within 10 minutes and a deadly 60 degrees within 20 minutes.
Ms Edmands said it is now time for more direct awareness action with signage at the entry of car parks at shopping centres and supermarkets.
Between 1 September 2013 and 31 August 2014, Ambulance Victoria paramedics rescued 1,165 children who had been left unattended in a car.
Figures from Ambulance Victoria reveal that:
Two thirds of call outs for children locked in cars were to car parks, streets or public places.
The summer months (December 2013 - March 2014) were the busiest period with an average of four call outs to a child left unattended in a car per day.
42% of incidents occurred between 11am and 3pm

Source: Ambulance Victoria, November 2014
Ms Edmands said with the predicted increase in heat this summer, the erection of a $70 sign that is seen by thousands of people every day just a couple of minutes before they park the car, is a critical reminder that could save lives.
"It is the most cost effective way of preventing children being left in cars and maintaining community awareness of the dangers".
Ms Edmands said the signage should be regarded as part of planning permit requirements for all new shopping centres with a retrofit program to all existing supermarket car parks over a one year period.
Kidsafe, with support from the Lions CrimeWatch Committee, local government and early childhood centres, have distributed and erected over 200 Do Not Leave Children In Cars signs in the past year.
Victorian Councils who have joined the campaign include the City of Frankston, City of Monash, Colac Otway Shire, City of Wodonga and the City of Kingston, with individual signs also being installed by early childhood centres in Fairfield, Bulleen, Leongatha, Middle Park, Glen Waverly, Rosebud, Ashburton and Fed Square.
Ms Edmands encouraged all shopping centre chains and other councils to follow suit and help reduce the number of children being left unattended in cars.
Take Action with Free Community Awareness Kit
In response to a 10 per cent increase of children being left in hot cars, Kidsafe Victoria is releasing a special electronic safety kit for use by the Media, Members of Parliament, Local Government, schools, shopping centres, supermarkets, preschools and community groups.
The kit Includes use of the info graphic below and a fact sheet which can be downloaded directly from the Kidsafe website: http://www.kidsafevic.com.au/images/stories/pdfs/hotcars.pdf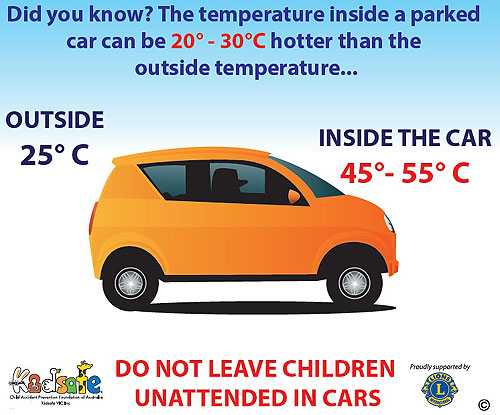 The fact sheet can be linked from a newsletter or website and is suitable for printing out for parents groups.

Download Graphic from link http://kidsafevic.com.au/road-safety/hot-cars
All Enquiries:
Ron Smith, Media Communications, Kidsafe Victoria - Mobile: 0417 329 201