Media Release
Thursday, 08 January 2015 12:49
Kidsafe Victoria and the City of Greater Geelong today unveiled the plans for the campaign. This will see signs installed in Council run facilities, together with extensive education and social media campaigns.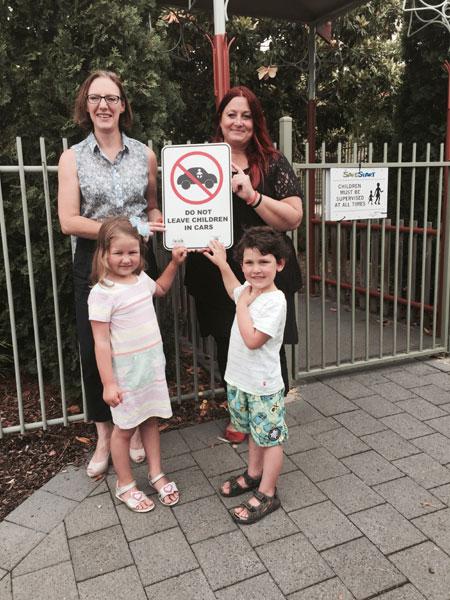 Left: Erica Edmands, President, Kidsafe Victoria; Cr. Kylie Fisher, City of Greater Geelong
along with Cleo and Kirby at the launch of the Do Not Leave Children In Cars signage program in Geelong this morning.
Erica Edmands, President of Kidsafe Victoria, said, "The direct action by the City of Greater Geelong is a major step in supporting the community and the efforts by Kidsafe Victoria, the Government, emergency services and health authorities in raising awareness of this important issue."
"Kidsafe Victoria has been campaigning on this issue for over a decade. Whilst it is now receiving more publicity than ever, the number of children left in hot cars has increased."
Between 1 September 2013 and 31 August 2014, Ambulance Victoria paramedics rescued 1,165 children who had been left unattended in a car.
Ms Edmands said Kidsafe Victoria's campaign to introduce 'Do Not Leave Children in Hot Cars' signs as part of the child accident prevention infrastructure is timely given the increased temperatures and a predicted hot summer ahead.
City of Greater Geelong Councillor, Kylie Fisher, who had raised the signage issue in Council, said they planned to work with Kidsafe Victoria to strategically roll out the signage across the city. This would be complemented by a social media campaign to the thousands of residents following the City of Greater Geelong Facebook and Twitter accounts.
"We will be actively contacting the supermarkets and shopping centres within the City to encourage their participation in the program", said Ms Fisher. "We will also be running an education campaign in our sports and leisure facilities."
Figures from Ambulance Victoria reveal that:
Two thirds of call outs for children locked in cars were to car parks, streets or public places.
The summer months (December 2013 - March 2014) were the busiest period with an average of four call outs to a child left unattended in a car per day.
42% of incidents occurred between 11.00am and 3.00pm
Source: Ambulance Victoria, November 2014
Click here for Kidsafe Victoria resource information.

Media Enquiries:
Ron Smith, Media Communications, Kidsafe Victoria - Mobile: 0417 329 201