Media Release
Sunday, 24 August 2014 11:06
Please pass this safety email onto family, friends, preschools and work colleagues.
Register for FREE iPad App
The Free 'Elmo Stays Safe' iPad App coming soon! To register your interest in the App and to receive a notification when it becomes available on the iTunes store, in the next couple of weeks please email This e-mail address is being protected from spambots. You need JavaScript enabled to view it

Developed for use by adults with preschool aged children, the app features everyone's favourite furry little red monster, Elmo, on his trip to the park with his Mum. There are a range of activities for children to do, including making sure Elmo is buckled up in the car, deciding when it is safe for Elmo to get out of the car and making sure everything is safe for Elmo and his Mum to cross the road.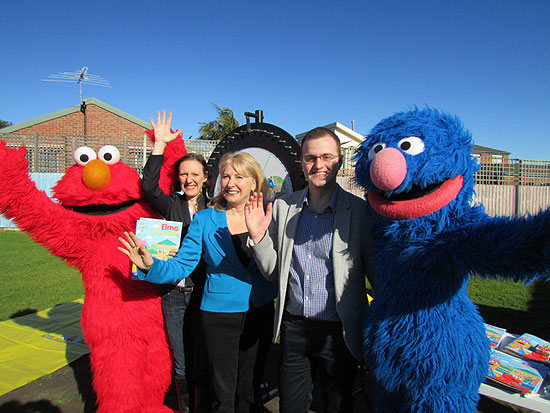 Left: Elmo, Erica Edmands, Kidsafe President; Local Coalition MP, Lorraine Wredford; Jason Chambers,
Kidsafe Project Manager, and Grover at the launch of the Stay Safe Elmo campaign Stage 2.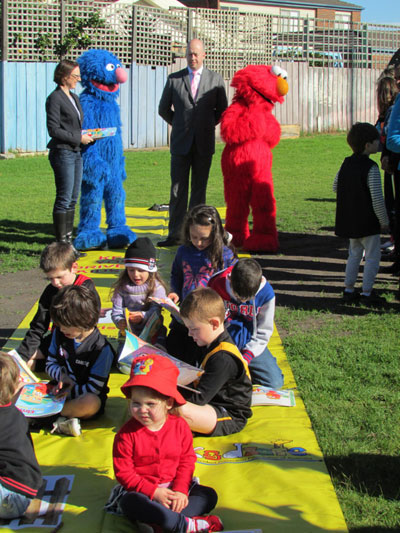 The Stay Safe with Elmo Activity book to be released online from the Kidsafe website as an eBook,
proved to be an instant hit as Elmo, Grover, Assistant Treasurer and Minister for the TAC, Gordon Rich-Phillips
and President of Kidsafe Victoria, Erica Edmands observe the immediate interest.
Media Release
Saturday, 23 August 2014

DRIVEWAY AND ROAD SAFETY THE FOCUS OF ELMO STAYS SAFE CAMPAIGN
Sesame Street's Elmo and Maria are starring in an innovative new road safety campaign launched today by Assistant Treasurer, Gordon Rich-Phillips, as part of a Victorian Coalition Government initiative to build a safer Victoria.
The second instalment of the Elmo Stays Safe campaign, which was first launched in 2013, is focusing on the dangers of children playing around driveways.
Check out Elmo's Driveway Safety Community Service Advert
Media Enquiries:
Ron Smith, Corporate Media Communications, Kidsafe Victoria - Mobile: 0417 329 201