Media Release
Thursday, 24 July 2014 14:41
Research indicates that wearing a helmet significantly reduces the risk of moderate, serious and severe head injury by up to 74 per cent in a collision with a vehicle.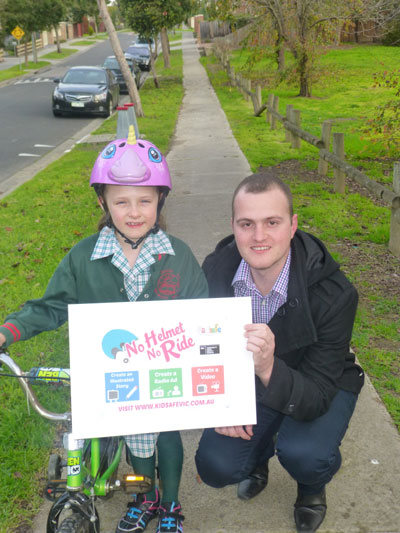 Ella with Jason Chambers, Program Manager, Kidsafe Victoria
The schools competition is designed to involve children in learning about and promoting the importance of wearing helmets while riding wheeled devices.
Kidsafe Victoria has joined forces with the TAC to raise awareness amongst children and their parents about the importance of wearing a helmet.
Erica Edmands, President of Kidsafe Victoria said, "Wearing a helmet can reduce the risk of injury or death when riding a wheeled device. However, a helmet won't be effective unless it is the right size for the child and is fitted correctly."
The competition invites children from Victorian primary schools to create a video or radio advertisement, or illustrated story, focusing on the theme, 'No Helmet No Ride'.
Competition entries open on 21 July and close at 4pm on 12 September.
There will be range of prizes awarded to the winners of each category, which will be announced on 21 October as part of National Kidsafe Day celebrations.
Ms Edmands advised that although the competition was aimed at school children, "It's still important to remember that we as adults have a responsibility to role model correct behaviours and always wear a helmet when we are bike riding or using other wheeled devices."
TAC Road Safety Manager Elizabeth Waller said the TAC was pleased to support this initiative under the Community Road Safety Grants Program, which has provided $5 million in support to local communities during the past eight years.
"This is a great example of how communities can engage in road safety and in particular with cyclists, encouraging children to wear a helmet from the time they start riding into adulthood."
"The Victorian Government has also recently announced a new TAC grants program for local councils to improve cycling and pedestrian infrastructure in their communities."
Further information on the grants program can be found on the TAC website.
For more information about the 'No Helmet No Ride' competition, including how to enter, please visit http://www.kidsafevic.com.au/nohelmetnoride
Media Enquiries:
Ron Smith, Corporate Media Communications, Kidsafe Victoria - Mobile: 0417 329 201