Media Release
Monday, 07 April 2014 11:31
Do You Know What Poison Is Under Your Kitchen Sink?
Can Your Child or Grandchild Open the Cupboard Door?
The Victorian Poisons Information Centre Receives 50 Calls A Day involving children 0-14 years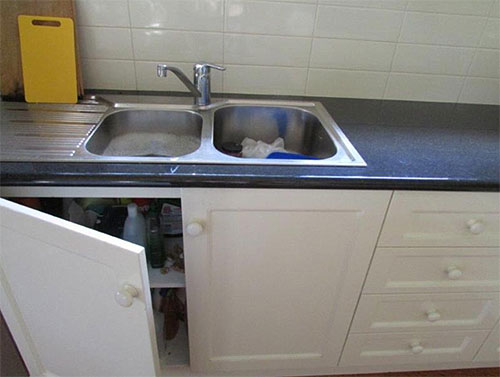 Kidsafe Victoria has released a FREE safety fact sheet on its website at http://www.kidsafevic.com.au/home-safety/poisoning to remind parents and carers of the steps to take to protect their children from poisoning.
Kidsafe Victoria CEO, Melanie Courtney said, "The traditional convenient storage of household cleaners, detergents and washing powders or liquids under kitchen and laundry sinks can create a toxic and poisonous hazard that is easily accessible by babies and toddlers."
"It is important to realise that children who ingest poisons can suffer severe and long term consequences."
In 2013, the Victorian Poisons Information Centre received 17,833 calls (approximately 50 calls per day) about exposure to a poisonous substance involving children aged 0-14 years.
Kidsafe Victoria are urging all parents and grandparents who have grandchildren visiting, to conduct an audit of what is stored under their kitchen and laundry sinks to identify potentially poisonous items.
Ms. Courtney said that to help reduce the risk of poisoning, all poisonous products should be stored out of the sight and reach of children, at least 1.5 metres off the ground in a lockable cupboard.
"It is important that medications are stored in a separate safe area away from other poisonous products such as household cleaners."
"Parents should also remember that child resistant containers are not child proof - they are designed to be difficult for children to open, but not impossible."
Ms. Courtney said that parents should not ignore other areas of the home, including outside in sheds or garages where poisonous or toxic materials such as pool chemicals, fuel, paints, solvents and pesticides are commonly stored.
Common household poisons
Cleaning Products:
Bleaches, dishwasher powders, oven cleaners, drain cleaners, toilet bowl cleaners, methylated spirits and turpentine.
Medications:
Over the counter medications such as paracetamol and cough and cold medications, as well as prescription medications such as antidepressants and blood pressure drugs.
Other Household products:
Essential oils, pesticides, herbicides, cosmetics (e.g. nail polish remover) and some car cleaning products.
What to do if you think your child has ingested a poisonous substance:
Never try to induce vomiting.
Pick up the product container and take it with you to the phone - the Poisons Information Centre will want to know what ingredients are in the product.
Phone the Poisons Information Centre on 13 11 26 (24 hours a day, Australia wide). They will advise you of what to do next.
Media Enquiries:
Ron Smith, Media Communications, Kidsafe Victoria - Mobile: 0417 329 201

Ryan's Story
"Ryan's burn was the result of a corrosive chemical found in a liquid oven cleaner. He had access to it one day when the cupboard under the sink had not been locked. He was 13 months old at the time.
Despite its child proof lid which was still in place when we found him, it appeared Ryan had chewed on the lid and the liquid had oozed down the side of the bottle. We saw some liquid on his fingers and we suspected it might have been in his mouth. He had started to cry by this stage as the liquid must have been starting to burn.
We quickly called the Poisons Hotline who, after establishing what the active ingredient was, suggested rinsing out his mouth with water. We tried to do this for at least 20 minutes and it was only when he started to calm down that I considered bathing him all over, to make sure we could give his hands and face a proper wash.

Only at this stage did I notice that his leg had a burn; as he was sitting with the bottle as the liquid oozed down the side, a large amount had pooled on his leg which I hadn't, up until this point, been able to see as his clothes had concealed this.
Even in the 30 minutes (approximately) since we had found him with the oozing bottle, the patch on his leg had had developed a large port wine coloured stain which was how his leg became affected so badly.

We ended up at the Royal Children's Hospital, I have to admit, a little naive as to the gravity of the situation. We knew his leg would require a burns dressing, but the doctors also then proceeded to explain how, as it was a chemical burn, they would need to wait a week to see how effective the special burns dressing (made of a silver substance designed to promote healing) would be. We were told a skin graft may also be necessary.
Unfortunately, Ryan's leg did require a skin graft as the burn was quite large, relative to his body size, and deep. It was some 3-4 weeks after the skin graft procedure when the dressings could be removed. From this point, a daily schedule of massage, moisturising, silicone treatment to minimise the development of a keloid scar and pressure garments began, and is likely to continue for up to two years after his burn.
We visit the Royal Children's Hospital every 3 months to see physiotherapists, doctors and plastic surgeons who continue to monitor his progress.
We were fortunate because Ryan did not ingest any of the corrosive substance or rub any in his eyes. He is a happy little boy who puts up with the routine of looking after his scar.
In hindsight, at the time of the burn, we wish we had thought to strip him of all clothes and inspect him all over rather than guessing where he might have been affected. It must be a common reaction of parents to concentrate on rinsing out the mouth, what would be the most worrying outcome to us, but a simple check of his body at the outset would have greatly diminished the possibility of such a serious burn occurring."