Media Release
Tuesday, 17 July 2012 17:22
On Average One Child a Month in Australia Dies in a Home Driveway Runover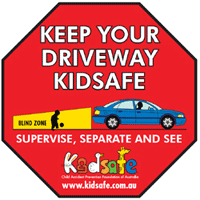 Kidsafe today said the prevention of toddler driveway deaths required people to be alert 365 days a year.
Speaking following the latest driveway tragedy where a two year old toddler was fatally injured yesterday in Lake Boga, Robert Caulfield, President of Kidsafe Victoria, highlighted that "Driveways are one of the most hazardous areas for children around the home."
Research has shown most driveway runover incidents occurred at or near the child's home, where both the parent and the child may have felt that the child was safe. In a number of incidents, there was no clear separation between the driveway and the rest of the yard or play area.
"Most of the cases involved young toddlers who have positioned themselves close by a stationary vehicle. These children were old enough to be mobile, but too small to be easily visible from the driving position when close to the vehicle" said Mr Caulfield.

Driveway Safety Fact Sheet Download for Parents
Avoiding the Tragedies
Always supervise your children whenever a car is being moved - hold their hands or keep them close; If you are the only adult at home, safely restrain children in the vehicle while you move it.
Discourage children from using the driveway as a play area and make access to the driveway from the house difficult for a child by using doors, gates and fences with childproof locks.
Install a reversing camera or sensor to assist with detection of children or objects behind the car, and;
Most importantly, be aware of where your children are and who is supervising them.
Statistics:
6 children killed in driveways in Victoria alone in the last 24 months
46% between 4:00- 6:00PM 31% between 8:00-10:00AM
In 11 instances (85%) the driver was unaware that the child was near to the vehicle

Media Enquiries:
Ron Smith, Corporate Media Communications, Kidsafe Victoria - Mobile: 0417 329 201