Media Release
Sunday, 01 January 2012 14:05
With a forecast for New Year's Day of 35 degrees, a forecast temperature of 40 degrees tomorrow, and statistics from the RACV showing that 1574 children were rescued from cars in Victoria in the last 12 months, Ms Lovell warned that over summer children's lives can be endangered within a couple of minutes during a hot day.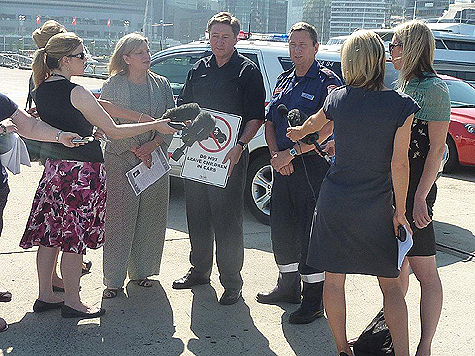 2012 Hot Cars media launch at Docklands with the Victorian Minister for Children, Wendy Lovell;
Robert Caulfield, President, Kidsafe Victoria; and Gary Robertson, Clinical Support Officer, Ambulance Victoria.
"Due to their smaller body size and underdeveloped nervous system, children are unable to cool their body temperature down, leaving them more exposed to risks of dehydration, serious injury and death," Ms Lovell said.
"The temperature inside a parked car during the Australian summer can be 20 to 30 degrees hotter than the outside temperature.
"I urge parents, grandparents and other carers to always take their children with them and never leave them in the car - even if you think you'll only be gone a few minutes."
Tests conducted by Ambulance Victoria on a 29 degree day with the car's air conditioning having cooled the interior to a comfortable 20 degrees showed it took just 10 minutes for the temperature to more than double to 44 degrees and in a further 10 minutes it had tripled to a deadly 60.2 degrees. Leaving the window down a few centimetres does little.
Victorian legislation now makes leaving a child unattended in a car a criminal offence, with penalties ranging from fines of up to $1,652 to three months in prison.
Victorian President of Kidsafe Robert Caulfield echoed Ms Lovell's call for ongoing action on kids in hot cars.
"The clear message is take the children with you, even if you are just going to the shops for a few minutes. It could save their life or avoid them suffering severe brain damage," Mr Caulfield said.
Information for parents and carers about the impact of leaving a child in a hot car is available on the Kidsafe website at www.kidsafevic.com.au
The fact sheet Kids in Hot Cars provides information and advice for parents about summer safety issues including:
Always take children with you - even if you only intend to leave the car for a brief time
Keep the keys with the driver - never leave them with the child, in the ignition, or place them on a car seat
Never let children play with keys or access an unattended vehicle
Check the vehicle is empty before remote locking - it is easy to make a mistake and unintentionally lock children in the car


Media Contact: 
Ron Smith, Corporate Media Communications, Kidsafe Victoria: 0417 329 201