Media Release
Tuesday, 06 December 2011 14:16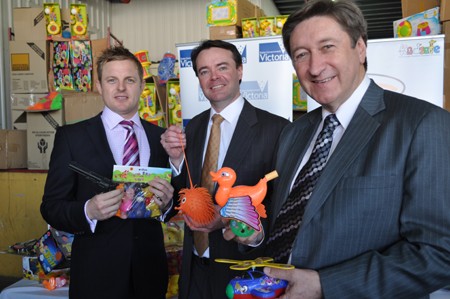 Left: Paul Hodgson, General Manager, Australian Toy Association Limited;
the Hon. Michael O'Brien, Minister for Consumer Affairs and Robert Caulfield,
President, Kidsafe Victoria with the dangerous toys.

Helping to destroy thousands of unsafe toys seized from Victorian retailers, wholesalers and importers at North Melbourne today, the Minister Mr O'Brien said Consumer Affairs Victoria staff were being extra-vigilant at the start of the festive season.
"The toys being destroyed today pose a variety of risks, including small parts that could choke a child and projectiles that could cause serious eye injuries," Mr O'Brien said.
"Today's pre-Christmas destruction will ensure more than 45,000 unsafe toys that have been seized from traders across the state cannot endanger Victorian children."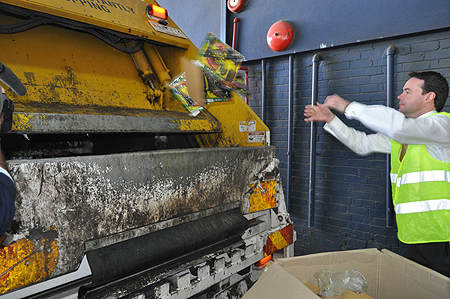 Consumer Affairs Minister Michael O'Brien throwing the dangerous toys into
the compactor to be crushed.

The seizures were part of the national pre-Christmas toy survey by fair trading agencies across the country in an annual effort to check as many toys as possible in the lead up to Christmas.
Mr Caulfield said the removal of these dangerous toys by Consumer Affairs Victoria was vital to protecting children from serious injury and potential life threatening incidents such as choking.
"Adults purchasing toys should exercise extreme care and ensure that the toy is suitable for the child's age, is of good quality and complies with safety standards, particularly in the lead up to Christmas," Mr Caulfield said.
In 2010-2011, Consumer Affairs Victoria seized 44,700 unsafe products from traders across the state.
For a list of Unsafe Toys go http://www.productsafety.gov.au
Media Enquiries:
Ron Smith, Kidsafe Victora - Mobile: 0417 329 201