Media Release
Wednesday, 10 August 2011 14:46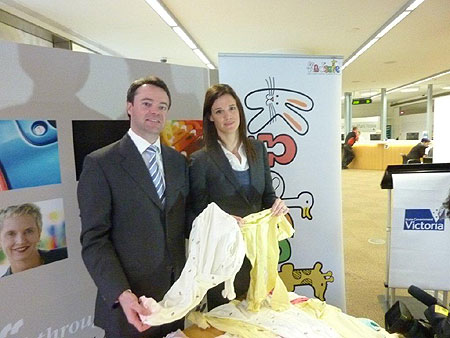 Michael O'Brien, Victorian Minister for Consumer Affairs and
Melanie Water, Manager Kidsafe Victoria with the seized items


Inspecting the seized items at the Victorian Consumer and Business Centre in Melbourne this morning, Mr O'Brien said the items had been seized after inspectors from Consumer Affairs Victoria visited 46 retailers last month to check children's nightwear being sold for compliance with mandatory standards.
"More than 370 items of children's nightwear - including pyjamas and jumpsuits - were seized after failing to display the required fire danger label, either by having the label incorrectly worded and displayed or failing to include any label at all," Mr O'Brien said.
"Consumer Affairs inspectors have done a great job here in protecting Victorian families by seizing these illegal and unsafe items so they cannot be sold."
Suburbs visited in the citywide blitz included Brunswick, Camberwell, Coburg, Dandenong, Footscray, Hawthorn, Preston and Reservoir.
Under the mandatory standard for nightwear for children, nightwear items require specific labelling to warn that the material is flammable. The type of warning a nightwear item must carry depends on the type of fabric used in the nightwear.
"While no nightwear is fireproof, adequate labelling ensures that parents and carers are aware of the level of risk when purchasing products," Mr O'Brien said.
"This seizure shows that unfortunately some traders still do not understand product safety standards.
"These standards are in place to protect families and the community and breaching them brings serious consequences."
Kidsafe Victoria backed the Victorian Government's action, saying the blitz revealed the depth of the problem and the need for manufacturers to act.
"The illegal garments undermine the safety of children and the ability of parents to make an informed decision, an issue we will promote through our parent programs," State Manager for Kidsafe Melanie Water said.
Under the Australian Consumer Law, a supplier who fails to comply with a mandatory safety standard can face fines of up to $220,000 for individuals and $1.1 million for a body corporate.
Consumer Affairs Victoria is currently making further enquiries about the source of the seized products.
To help reduce fire risks from children's nightwear, parents should remember and follow these tips:
· do not choose nightwear labelled 'high fire danger' if your child may be near open heat sources;
· even if you choose garments with a low fire danger label these can still be flammable;
· choose well-fitting nightwear: the more loose-fitting the flammable clothing is, the higher the risk of burns if it catches fire; and
· contact your local fire authority for information on how to:
o install smoke detectors,
o prevent fires around the home, and
o provide first aid for burns and scalds.
The seizures by Consumer Affairs Victoria were part of national surveillance efforts around product safety.
For further information about product safety visit www.productsafety.gov.au
For further information about Consumer Affairs Victoria visit www.consumer.vic.gov.au or call 1300 55 81 81.

Kidsafe Media Enquiries:
Ron Smith, Corporate Media Communications, Kidsafe Victora - Mobile: 0417 329 201