Media Release
Sunday, 19 December 2010 15:49
Michael O'Brien, Minister for Consumer Affairs speaking with Ella, and Jack (centre), Casey (right), and Lachlan Holberry-Morgan from Ambulance Victoria.  


The Minister joined Kidsafe and Ambulance Victoria this morning at Parliament House to promote the Christmas safety message.


"Christmas can be spoiled when children fall off their new bikes, skateboards or rollerblades and wind up in hospital because they were not wearing adequate safety gear," Mr O'Brien said.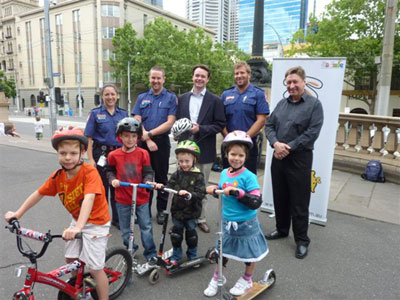 In foreground left - Jack, Casey, Xavier and Ella. Background left: Susie Dean, Shaun Urie Ambulance Victoria; Minister Michael O'Brien, Lachlan Holberry-Morgan Ambulance Victoria and Robert Caulfield, Kidsafe Vice-President.
"Make Christmas Kidsafe by not only ensuring safety gear is part of the present, but also ensuring that when children are getting their first bike, scooter or skateboard, that time is spent to develop confidence and skills in a safe environment.

"The development of road safety awareness is also a crucial element of making Christmas Kidsafe. 

"It is vital all children riding bikes, skateboards, scooters and rollerblades wear correctly fitted safety helmets, which significantly reduces the risk of brain injury. Reflective lights and vests increase visibility and are also important," Mr O'Brien said.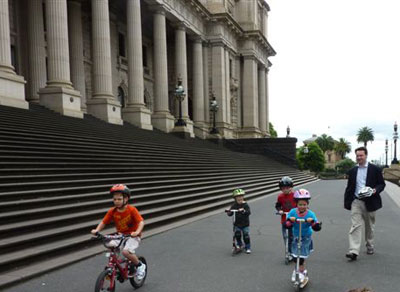 Left: Jack, Xavier, Casey and Ella with Minister Michael O'Brien at Parliament House.
Dr Mark Stokes, President of Kidsafe, said each day in Australia 5,000 children require medical attention, 170 are admitted to hospital and one child dies - all as a result of unintentional injuries. 

"Christmas is a time when parents, grandparents or anyone else buying presents for children need to check their gifts are safe and age appropriate, and ensure the toys do not pose a risk of choking, cutting, strangulation, and that they are non-toxic and non-flammable," Dr Stokes said.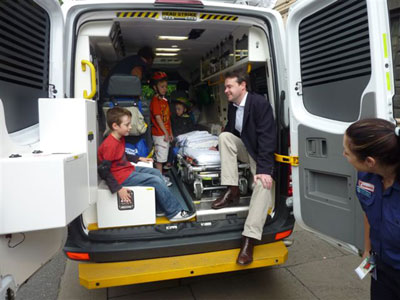 Checking out inside the Ambulance at Parliament House this morning.

 

Kidsafe has released a special fact sheet on its website to help make Christmas Kidsafe at www.kidsafevic.com.au

Media Enquiries:
Ron Smith, Corporate Media Communications, Kidsafe - Mobile: 0417 329 201