Media Release
Tuesday, 23 November 2010 11:36
Kidsafe Victoria have issued a red alert on Back Yard Pool Safety following a six-year-old boy being left in a critical condition in hospital after being pulled from a neighbour's back yard pool in Doncaster.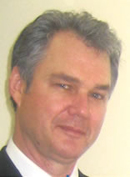 Dr Mark Stokes
Kidsafe Victoria has urged people who have back yard pools to be on red alert as temperatures soar and back yard pools come into more use.
Dr Mark Stokes, President of Kidsafe Victoria said the safety of pool gates and fencing was a daily issue and supervision was vital anytime children were using a pool, no matter what their age, or even if there was a mix of younger and older children.
"In 2008-09 almost 60 per cent of the 19 children under five who drowned lost their lives in a back yard swimming pool".
"More than half of all the children under five years old who drowned in Australia last year died in back yard pools, often because the fence gate wasn't properly secured".
"A fence with a self-closing gate goes hand-in-hand with supervision as the best way to prevent childhood drowning."
Dr Stokes said, "Pool fencing should be checked regularly to ensure it isn't climbable and is in good repair".
Media Enquiries:
Ron Smith, Corporate Media Communications, Kidsafe Victora - Mobile: 0417 329 201