Media Release
Wednesday, 10 November 2010 10:39
In 2008 / 2009 1543 Children had to be rescued from cars in Victoria.
Kidsafe Victoria has issued an urgent warning to parents over the deadly dangers of leaving children in cars on hot days as Victoria is experiencing a bout of hot weather. The call follows eight reported incidents in Victoria yesterday.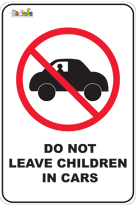 Dr Mark Stokes, President of Kidsafe Victoria, said that in the past children have died from being left in cars and over summer children's lives can be endangered within a couple of minutes during a hot day.
"Due to their smaller body size and underdeveloped nervous system, children have an ineffective cooling mechanism."
"Following a number of child deaths and several years of Kidsafe campaigning, legislation now makes leaving a child unattended in a car a criminal offence "
Dr Stokes said most emergency call outs occur in shopping centres.
In most States it is against the law to leave a child unattended in a vehicle whilst parents go shopping.
"The clear message is take the children with you. It could save their life or avoid them suffering severe brain damage."
Tests conducted by Ambulance Victoria on a 29 degree day with the car's air conditioning having cooled the interior to a comfortable 20 degrees showed it took just 10 minutes for the temperature to more than double to 44 degrees and in a further 10 minutes it had tripled to a deadly 60.2 degrees. Leaving the window down a few centimetres does little.
The temperature inside a parked car during the Australian summer can be 20 to 30 degrees hotter than the outside temperature," Dr Stokes said.
Media Enquiries:
Ron Smith, Corporate Media Communications, Kidsafe - Mobile: 0417 329 201