Media Release
National Kidsafe Day Tuesday 26 October 2010 - Victorian Emergency Services Recognised for Protection of Children
Tuesday, 26 October 2010 15:07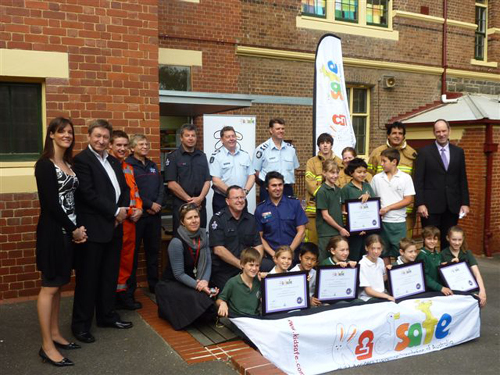 On National Kidsafe Day students at the Hawthorn West Primary School
played host to the Victorian emergency services.
In a ceremony held this morning, grade three students from Hawthorn West Primary School acted as Kidsafe ambassadors and presented Kidsafe certificates of recognition to Ambulance Victoria, Victoria Police, Melbourne Metropolitan Fire Brigade, Country Fire Brigade, and the State Emergency Services.
Robert Caulfield, Vice President of Kidsafe Victoria said Kidsafe's public acknowledgement of the emergency services was recognition of the care, concern, and kindness of the men and women in the front line, who often place their own lives at risk, to rescue and protect children.
"Each year there are hundreds of Victorian families who are personally touched by the commitment and dedication of these services.
"As a community we believe it is important to also acknowledge that members of our emergency services must deal with extreme emotional trauma in situations involving fatalities or severe injuries to children."
Mr. Caulfield said, "apart from rescuing and caring for children in emergency situations, these organisations play a major role of safety education and awareness, supporting the prevention of unintentional injuries to children".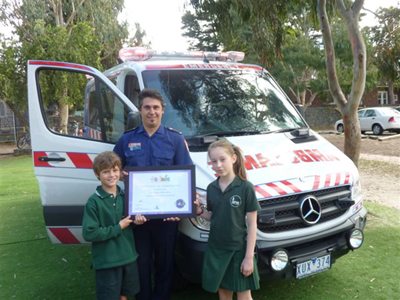 Rohan Anstey from Ambulance Victoria - Hartwell Station and the Kidsafe Ambassadors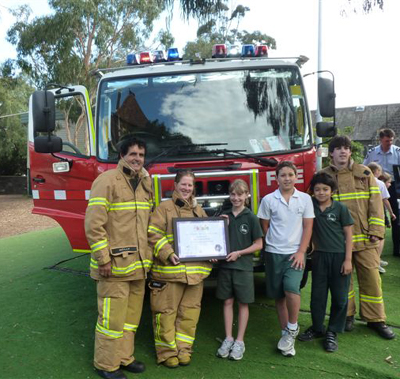 Left: Mark Reilly, Belinda Craig and Matt Mannix (right) from the Werribee Brigade of the Country Fire Authority with the Kidsafe Ambassadors.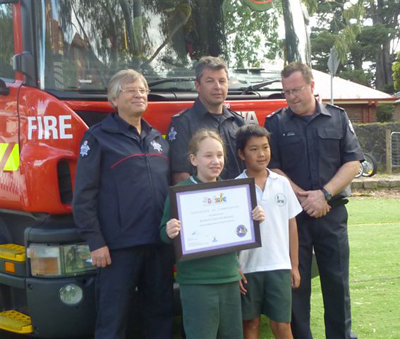 Left: Rob Wigley, Mark Power and Station Officer Peter Yeoman from the Metropolitan Fire Brigade Hawthorn Station with the Kidsafe Ambassadors.
Left: Leading Senior Constable Brett Phillips and Acting Inspector Kevin Archer from Victoria Police Boroondara Station with the Kidsafe Ambassadors.
Ryan Melville from the State Emergency Services with the Kidsafe Ambassadors.

Each day in Australia, 5,000 children require medical attention, 170 are admitted to hospital and one child dies - all as a result of unintentional injuries. Most of these injuries occur at home and at school.
Since Kidsafe's establishment in 1979, the number of children in Australia killed by unintentional injury has been halved. To date, a great deal has been achieved in preventing unintentional injuries to children through Kidsafe media campaigns and educational programs, however, Kidsafe and the community must continue their efforts to save the lives of Victorian children.
Click here for the Home Safety Checklist

Media Enquiries:
Ron Smith, Corporate Media Communications, Kidsafe Victoria - Mobile: 0417 329 201