Media Release
Wednesday, 21 August 2013 14:01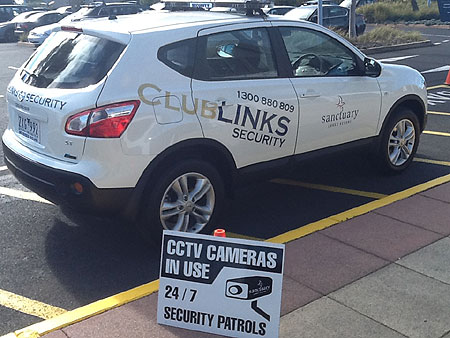 From today two specially equipped security vehicles including on-board cameras, emergency warning lights and an onboard life saving defibrillator for medical emergencies will hit the road and complement the CCTV surveillance program and 24 hour home security monitoring system within Sanctuary Lakes. These vehicles replace two smaller sedans that have previously been used for security patrols.
Tony Ferreri, General Manager of Sanctuary Lakes Resort Services Ltd, responsible for the management and implementation of the program on behalf of the residents said, the new vehicles, which patrol the estate twenty four hours a day, provide an important safety and emergency support for the community.
"These security vehicles provide a timely link to emergency services as well as being able to provide on the spot assistance to residents. Their roving nature provides valuable intelligence on any potential security problems."
Mr Ferreri said that the new patrol vehicles also complement the internal security and safety alarm systems in homes connected to the central security monitoring system where home owners have an emergency button in the home to request a response from the roving security units.
"These security systems also provide alerts to fire and burglaries. In one case a home owner had left a stove on, leaving to play golf and was surprised to receive a message on the 9th tee that security was in attendance at his home in response to a potential fire hazard."
Mr Ferreri said the inclusion of potentially lifesaving defibrillators in a security vehicle, in the recreation centre and in the Clubhouse - with security and other staff who are trained in their use and general first aid also plays an important role in the safety and security program at Sanctuary Lakes.
The CCTV component of the Sanctuary Lakes security and community safety program provides both the internal security network and local authorities with valuable intelligence as vehicles entering and leaving Sanctuary Lakes are identified using number plate recognition technology and time stamped surveillance.
People entering Sanctuary Lakes are advised of the CCTV and mobile patrol presence throughout the resort with suitable signage.
Media Enquiries:
Ron Smith, Sanctuary Lakes Media Communications - Mobile: 0417 329 201