Media Release
Friday, 16 November 2012 15:08
Australia's new international golfing star, 26 year-old Stacey Keating, who recently won her maiden tournament the Spanish Open and followed two weeks later by winning the French Open, returned to Sanctuary Lakes Golf Club today.
Stacey visited the Club this morning and met with members of the Sanctuary Lakes Foundation and passed on some tips to two of Sanctuary Lakes junior girl golfers - seven year-old Kiandra and sixteen year-old Violetta, who were practicing their putting.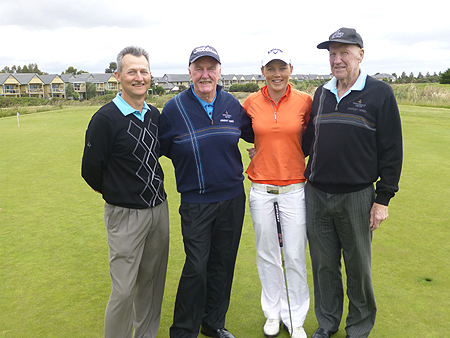 Sanctuary Lakes Foundation members (left) Kevin Halsted, President; Graeme Glasson;
Stacey Keating and Allan Smith at Sanctuary Lakes this morning.
Sanctuary Lakes Golf Club was Stacey's golfing home for seven years as she prepared for her professional career with the financial assistance and support of the Sanctuary Lakes Foundation.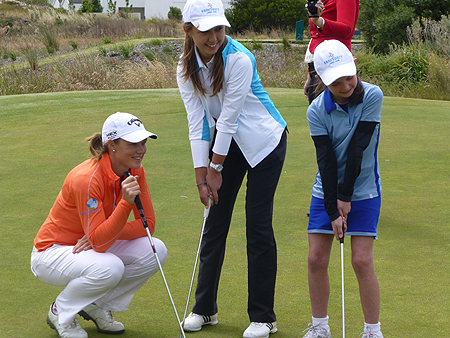 Left: Stacey Keating giving Violetta (left) and Kiandra some golfing tips at Sanctuary Lakes.
Sanctuary Lakes Club also announced it has commenced a drive to increase the number of women golfers playing the sport.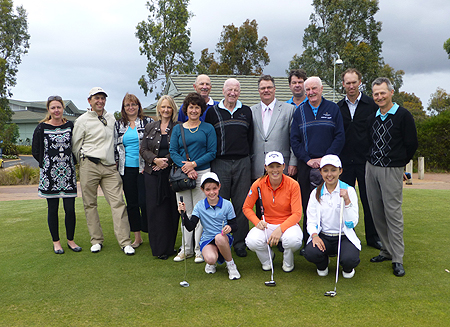 Sanctuary Lakes Foundation and Golf Club members welcome Stacey Keating back to Sanctuary Lakes
.
Media Enquiries:
Ron Smith, Corporate Media Communications, Sanctuary Lakes - Mobile: 0417 329 201