Media Release
Monday, 25 June 2012 10:54
Federal Minister for Sport, Senator Kate Lundy teed off at Sanctuary Lakes Golf Course on Sunday morning, nearly scoring a hole in one by hitting the pin on the 125 metre par 3 eleventh hole. 
With an early morning start at 7.30am in the brisk air, the Minister was joined by the President of Sanctuary Lakes Golf Club Dermot Heron, Sanctuary Lakes Club Member and CEO of Melbourne Storm Ron Gauci and Pat Johnson.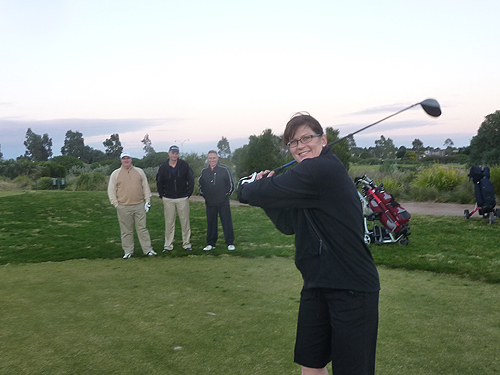 Federal Minister for Sport, Senator Kate Lundy Tees Off at Sanctuary Lakes Resort

Dermot Heron said it was a privilege to be able to showcase the Sanctuary Lakes Golf Course to the Minister first hand to show what had been achieved through the transformation of the area which was once a degraded salt plain to a first class golf course and residential project.
Sanctuary Lakes Golf Club in its short life of eleven years has quickly established a national and international reputation as one of the best golf clubs and courses in Australia, out ranking many established golf courses.
In 2012 Sanctuary Lakes Golf Club has been ranked 52nd in Australia's top 100 golf courses.
Mr Heron said, "The Club has developed a strong competitive membership with both the Colts and Seniors in the Division 1 Pennant competition and has a strong established Junior program with over 60 participants.
"The Club also has a good record of mentoring young professional golfers from juniors onto the professional circuit including Stacey Keating named Rookie of the Year in 2012 and Daniel Valente."
The Sanctuary Lakes Golf Club has also established the Sanctuary Lakes Foundation, a charitable foundation which raises funds to support young golfers and community programs.
Sanctuary Lakes has hosted in excess of over one hundred charity golf days for many corporate and community groups, and has raised an estimated $500,000 for charity over the past decade.
Media Enquiries:
Ron Smith, Sanctuary Lakes Media Communications - Mobile: 0417 329 201