Media Release
Monday, 12 March 2012 11:35
A high level Chinese Government delegation on a fact finding tour visited the multi-award winning development of Sanctuary Lakes last Friday to receive a briefing on the success of the project. 
Mr Ji Jianye, Mayor of the City of Nanjing, toured Sanctuary Lakes with his team of sixteen senior Government officials to look at the planning, housing design and the lake.
With an urban population of over five million (2006), Nanjing is the second-largest commercial center in the East China region after Shanghai.
Mayor Ji Jianye was on a special tour of Melbourne hosted by Robert Caulfield from CK Designworks, a Melbourne architectural firm undertaking a twenty square kilometre planning and development project for the City of Nanjing.
The Mayor of Wyndham City Council, Cr Kim McAliney met with Mayor Ji Jianye and attended the briefing on Sanctuary Lakes provided by Tony Ferreri, Manager of Sanctuary Lakes Resort Services Limited.
Following the tour and briefing, Mr Ji Jianye said the Sanctuary Lakes Resort, designed and developed by Links Living, created a vibrant area of the municipality.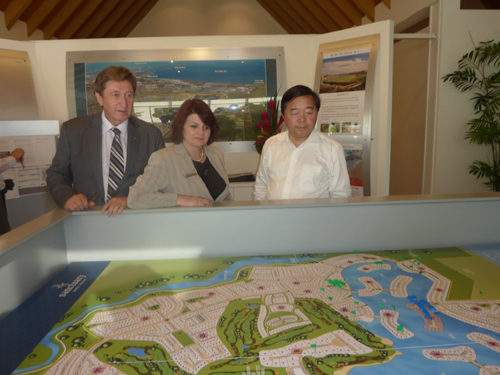 Left: Robert Caulfield, CK Designworks, Cr Kim McAliney, Mayor, Wyndham City Council
and Mr Ji Jianye, Mayor, City of Nanjing being briefed on Sanctuary Lakes.
Media Enquiries:
Ron Smith, Sanctuary Lakes Media Communications - Mobile: 0417 329 201