Media Release
Tuesday, 13 December 2011 13:25
On Sunday 11 December 2011 Sanctuary Lakes Resort residents celebrated the completion of the Sanctuary Lakes Boulevard providing residents with a continuous road from the entry to exit points of the golf and residential estate. The estate now has a population in excess of 5000 residents.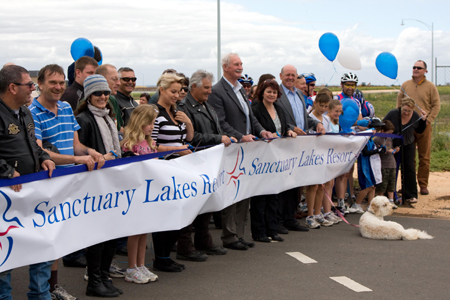 Sanctuary Lakes residents cutting the ribbon to open the completion of the Boulevard.

Speaking at the opening of the new road, Sanctuary Lakes Residents Association Chairman Ian Browne said, the completion of the road would make it easier and safer for residents to move around Sanctuary Lakes and opened up a major viewing platform for the Point Cook Coastal Park and Cheetham Wetlands.
Mr Browne said the opening of the road would assist in discussions with relevant authorities for a bus service to travel through Sanctuary Lakes.
Newly elected Wyndham City Council Mayor, Cr Kim McAliney, officially launched the new road. Cr McAliney said the completion of the Boulevard was a major milestone in the history of Sanctuary Lakes Resort which commenced some fourteen years ago.
Cr. McAliney, along with fellow ward councillor Bob Fairclough and residents, led the official coordinated ribbon cutting before taking the first lap of the finished road being escorted by the Sanctuary Lakes Cycling Club and the Point Cook Motor Cycle Club.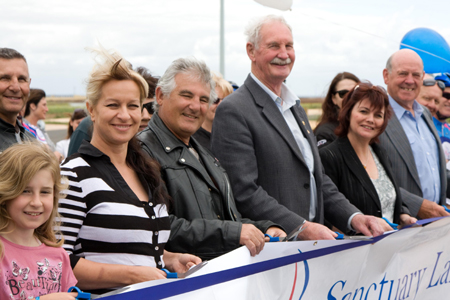 Left: Lina Patti, Tony Pantaleresco, Cr Bob Fairclough, Mayor Cr Kim McAliney,
Ian Browne and residents cutting the ribbon.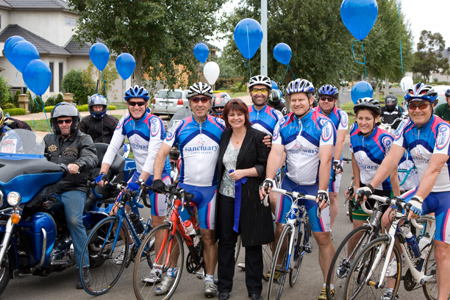 Mayor Cr Kim McAliney (centre), with the motor cycle riders and bike riders
getting ready to set off.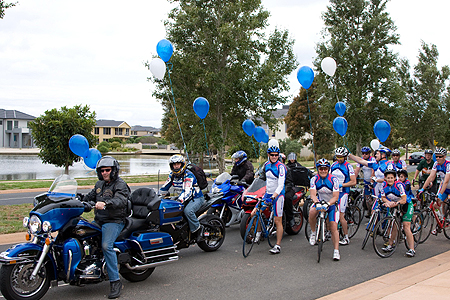 All lined up ready to set off for the ride along the completed Boulevard
Media Enquiries:
Ron Smith, Sanctuary Lakes - Mobile: 0417 329 201