Media Release
Thursday, 09 September 2010 11:42


Media Alert
1.30pm Friday 10 September 2010
Golfers Hand Over Keys To 'The Green Machine' 

 Sanctuary Lakes Club House
Greg Norman Drive, Sanctuary Lakes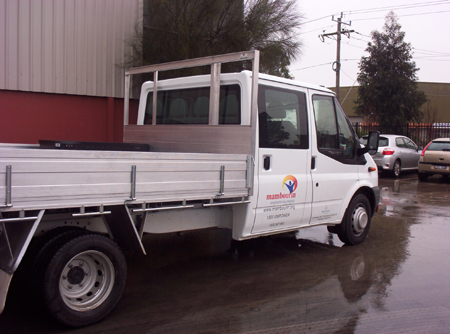 The Mambourin Ford Transit Dual Cab 7 seater
Mambourin Enterprises who have been supporting people with disabilities since 1975 by promoting independent living through offering employment, education and training services to adults with a disability, will officially receive the keys to their new double cab truck.
The new vehicle is used to transport staff and teams of workers to undertake work on the sensory gardens and contract maintenance and landscaping work in the wider community.
Proceeds from the 2009 and 2010 Mambourin Charity Golf Days held at Sanctuary Lakes Golf Club were put towards the purchase of a Ford Transit Dual Cab 7 seater.
The truck was purchased with the generous support of Sanctuary Lakes Golf Club at a cost of $45,269.
These Mambourin Charity Golf Days were organized by Sanctuary Lakes residents John & Jeanne Burbidge with the assistance of Sanctuary Lakes residents and golf club members.
The 2011 Mambourin Charity Golf Day will be again held at Sanctuary Lakes on Friday 25 March 2011, entries will be available early 2011.
The truck proudly displays Mambourin's logo and contact details, and is used for daily gardening jobs, mainly around the Werribee and Hoppers Crossing areas, but also includes Braybrook and Sunshine areas. Mambourin's regular clients include Rose Grange and Heathglen Retirement Villages and the Werribee Racecourse.
Media Enquiries:
Ron Smith, Corporate Media Communications, Links Living - Mobile: 0417 329 201

MAMBOURIN ENTERPRISES
Mambourin Enterprises Inc. has been supporting people with disabilities since 1975.
Mambourin promotes independent living by offering employment, education and training services to adults with a disability.
Mambourin's slogan is "Empowering People" which drives all that we do. Some examples are:
helping people with disabilities to be valued and valuable members of our community by creating opportunities for regular employment, to achieve a more independent future, and to enhance their self-esteem
making substantial and on-going investment in the professional development of our staff to ensure that we have the best and brightest in the sector, and
supporting families through respite and planning processes to ensure that their needs are also being met and they feel supported.