Media Release
Wednesday, 24 February 2016 10:32
Billy the Kidney, the big red cuddly ambassador for Kidney Health Australia, is set to spearhead a national education and awareness campaign to coincide with World Kidney Day on Thursday 10 March 2016.
The World Kidney Day theme for 2016 is KIDNEY DISEASE AND CHILDREN. BETTER KNOWLEDGE. BETTER CARE.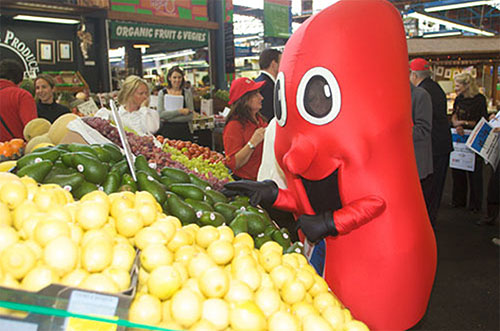 Billy the Kidney healthy shopping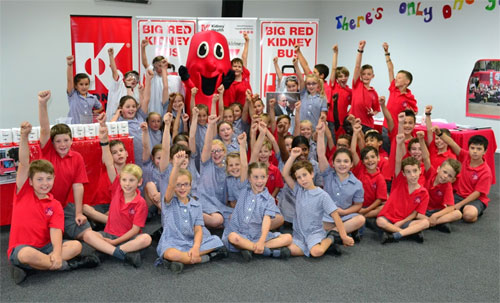 Billy the Kidney with students from St Michael's School in Traralgon, Victoria
Anne Wilson, CEO and Managing Director of Kidney Health Australia, said the "Kidney Disease and Children, Better Knowledge, Better Care" national schools' resources have been made available to every school in Australia from Kidney Health Australia's website www.kidney.org.au
The resources are suitable for children aged from five to sixteen with a range of activities, from colouring and drawing to engage five to eight year olds, to teaching resources and activities that expose the risks of sugar in drinks and foods for older students. The resources are aimed at teaching and promoting healthy life skills including choosing healthy food options.
Ms Wilson said, "The campaign is also aimed at alerting parents to the issues surrounding kidney disease, which is known as the silent killer as people can lose 90% of the use of their kidneys without even knowing."
2016 World Kidney Day activity is designed to build on the great work already being undertaken by schools promoting the importance of choosing water over sugary soft drinks and healthy food options in school canteens.
Over 20,000 Australians will die with kidney related disease in Australia this year. This is despite the fact that if chronic kidney disease is detected early and managed appropriately, then the otherwise inevitable deterioration in kidney function can be reduced by as much as 50% and may even be reversible.
One in three adult Australians is at an increased risk of developing chronic kidney disease. You are at risk if you have diabetes, high blood pressure, established heart problems (heart failure or heart attack) and/or have had a stroke, a family history of kidney failure, are obese, smoke, are aged 60 years or older or are of Aboriginal or Torres Strait Islander origin.
Approximately 1.7 million Australians, (1 in 10) aged 18 years and over, have indicators of chronic kidney disease such as reduced kidney function and/or the presence of albumin in the urine and around 90% of these are unaware they have this condition.
While many children are at risk of developing kidney disease later in life if they do not lead a healthy lifestyle, the majority of chronic kidney disease in childhood arises from inherited conditions.
Childhood looks very different with Kidney Disease
'If you are a child with kidney disease, you and your family and friends are forced to find the courage to tackle the many significant physical, psychological and social impacts.
Your life revolves around medical appointments, blood tests, restrictions in diet and fluids, hospital stays, medications, dialysis and possibly, significant transplantation surgery.
Even if you are lucky enough to receive a transplant and free yourself from the burdens of dialysis, you must take anti-rejection medicines for life and over time the transplant may gradually fail, leaving you to go through the whole process again.'
Anne Wilson, CEO and Managing Director Kidney Health Australia
Need For World Best Practice
'It is crucial that we continue to strive for world's best practice in the detection and treatment of children with both hereditary and acquired disorders of the kidney and urinary tract. Improved knowledge and understanding enables translation into tools for early detection and effective treatment.'
Dr Joshua Kausman, Chairman, The Australian and New Zealand Paediatric Nephrology Association