Media Release
Tuesday, 02 March 2010 00:00
The sixteen year old grandson of Australia's most famous racing car legend Sir Jack Brabham, three times world Formula One Champion, will officially launch World Kidney Day in Australia on 11 March 2010 in Melbourne.

Matthew Brabham, (pictured right) with his father Geoff Brabham, a Le Mans and Bathurst 1000 winner, will join Kidney Health Australia on the steps of the Victorian Parliament to make a noise about kidney disease and launch the 2010 campaign message 'Protect Your Kidneys Control Diabetes' with the roar of his Formula Ford. 
Type 2 Diabetes is the primary diagnosis causing kidney disease in 20-40% of people starting treatment for end stage renal disease worldwide.  In Australia, the number of new Type 2 Diabetes patients starting dialysis increased 5-fold between 1993 and 2007.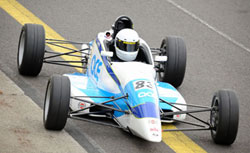 Matthew who will race in the Melbourne Grand Prix on 25 March 2010, will also become a Young Ambassador for Kidney Health Australia.  Matthew will help spread awareness about Chronic Kidney Disease by displaying a small symbolic Kidney Health Australia Red K on his car in honour of his grandfather Sir Jack Brabham who is on dialysis.
 Left: Matthew Brabham driving his Formula Ford. 
Launch of World Kidney Day
1.00pm Thursday 11 March 2010
Steps of the Victorian Parliament, Spring Street, Melbourne.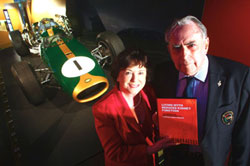 Sir Jack and Lady Margaret Brabham
(pictured right)
are the Patrons of Kidney Health Australia.
Media Enquiries:
Ron Smith National Media Communications
Kidney Health Australia Mobile: 0417 329 201