Media Release
Friday, 20 August 2010 11:45
50 Australians a day are Dying with Kidney Related Disease.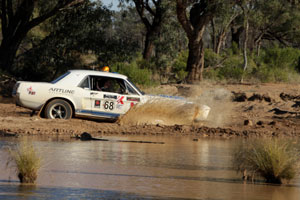 Kar 68 - Artline Team crosses the usually dry creek bed 200 kilometres out of Charleville on day 5 of the 2010 Kidney Kar Rally.
Taroom Queensland 20 August 2010: One group of Australians who have missed the last week of the Federal Election advertising has been the 150 people involved in the 22nd annual Kidney Kar Rally who have been travelling in the remote areas of Victoria, South Australia, Queensland and New South Wales.

Road Director Arthur Davis said the Rally has been basically Federal Election Free with Krews facing tough conditions and in some cases working through the night to keep the Kars in the Rally leaving no time to see the advertising blitz.
"We have had a tough time this year on the Rally and we were not sure if it was a good idea to start on Friday 13 August and end on Saturday 21 August Federal Election day."
Rally drivers who have not voted should be in time to cast their vote as the Rally is scheduled to arrive in Glen Innes from 4.00pm tomorrow, two hours before the polls close for the Federal Election.
This morning the Rally is stuck in Taroom Queensland because of heavy rain as the scout Kar surveys the Rally track before it heads to Chinchilla and then onto Dalby covering 611 km approximately
The rally is raising funds for Kidney Health Australia to support its Kidney Kids Camps.
Link to the 2010 Kidney Kar Rally entrants http://www.kidney.org.au/NewsEvents/KidneyKarRally/Entrants/tabid/275/Default.aspx
Media Enquiries:
Ron Smith, Kidney Health Australia, National Communications Manager (03) 9818 5700 Mobile: 0417 329 201
Kidney Kar Rally Timetable

Friday 20 August 2010 - Day 7
7.30am Taroom QLD / Lunch 11.30am Chinchilla QLD / Dalby QLD 4.30pm - 611 km approximately
Saturday 21 August 2010 - Day 8
7.00am Dalby QLD / Lunch 11.30am Stanthorpe QLD / Glen Innes NSW 3.00pm - 510 km approximately
Daily Arrival and Departure Points

Taroom -
Arrive Leichhardt Hotel, Dawson Street, Taroom / Depart Taroom Town Hall, Taroom Street, Taroom QLD
Chinchilla -
Hi-Way Café, Warrego Highway, Chinchilla QLD
Dalby -
Dalby RSL Memorial Club, 69 Drayton Street Dalby QLD
Stanthorpe -
Stanthorpe Sub Branch RSL Servicemen's Club Inc., 46 Marsh Street, Stanthorpe QLD
Glen Innes -
Glen Innes Golf Club, Hutchinson Street, Glen Innes NSW

Kidney Kar Rally Route