Media Release
Wednesday, 18 August 2010 15:10
50 Australians a day are Dying with Kidney Related Disease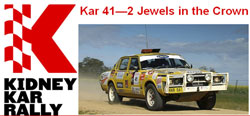 Kar 41 - 2 Jewels in the Crown
Quilpie Queensland: Despite being hit with floods and a mass bogging of 90% of vehicles on the first day, all 47 cars in the 22nd Kidney Kar Rally will roll out of the small country town of Quilpie at 8.00pm this morning and head towards Charleville on day 5 of the 4800 kilometre journey.
The drivers and Krews of two Kars spent all of yesterday repairing their vehicles and were forced to travel 845 kilometres overnight from Broken Hill to Quilpie and arrived early this morning at 3.00am to catch the field.

Arthur Davis, Road Director said despite the mechanical troubles of a number of Kars, Krews had worked hard to keep the vehicles on the road, however the next four days of intensive rallying will test both Kars and Krews.
The rally is raising funds for Kidney Health Australia to support its Kidney Kids Camps.
Link to the 2010 Kidney Kar Rally entrants http://www.kidney.org.au/NewsEvents/KidneyKarRally/Entrants/tabid/275/Default.aspx
Media Enquiries:
Ron Smith, Kidney Health Australia, National Communications Manager (03) 9818 5700 Mobile: 0417 329 201
Kidney Kar Rally Timetable

Wednesday 18 August 2010 - Day 5
8.00am Quilpie QLD / Lunch 11.30am Charleville QLD - 301km approximately
Thursday 19 August 2010 - Day 6
7.30am Charleville QLD / Lunch 11.40am Injune QLD / Taroom QLD 4.40pm - 692 km approximately
Friday 20 August 2010 - Day 7
7.30am Taroom QLD / Lunch 11.30am Chinchilla QLD / Dalby QLD 4.30pm - 611 km approximately
Saturday 21 August 2010 - Day 8
7.00am Dalby QLD / Lunch 11.30am Stanthorpe QLD / Glen Innes NSW 3.00pm - 510 km approximately
Daily Arrival and Departure Points

Quilpie -
Quilpie Club Ltd, Brolga Street, Quilpie QLD
Charleville -
Charleville RSL Memorial Club, 37 Watson Street, Charleville QLD
Injune -
Injune Bowling Club, 60 Hutton Street, Injune QLD
Taroom -
Arrive Leichhardt Hotel, Dawson Street, Taroom / Depart Taroom Town Hall, Taroom Street, Taroom QLD
Chinchilla -
Hi-Way Café, Warrego Highway, Chinchilla QLD
Dalby -
Dalby RSL Memorial Club, 69 Drayton Street Dalby QLD
Stanthorpe -
Stanthorpe Sub Branch RSL Servicemen's Club Inc., 46 Marsh Street, Stanthorpe QLD
Glen Innes -
Glen Innes Golf Club, Hutchinson Street, Glen Innes NSW

Kidney Kar Rally Route