Media Release
Thursday, 12 August 2010 12:27
Kidney Kar Rally 22nd Year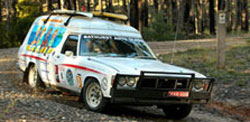 Kar 8 - Bathurst Surf Life Saving Club
Forty seven vehicles in the 22nd annual Kidney Kar Rally are facing flooded roads even before they start as they converge on Swan Hill today and tomorrow from all over Australia.

Arthur and Kim Davis of Bathurst, the Road Directors of the Kidney Health Australia - Kidney Kar Rally said the heavy rain in the past twenty four hours could impact on the planned route of the rally, much of which is off road and on dirt tracks.
It seems as though starting the Kidney Kar Rally on Friday 13th August and ending it on Saturday 21st August - the day of the Federal Election has proved to be a DAMP OMEN.
Following floods in Queensland earlier this year, which has been moving through Australia, Arthur and Kim Davis were forced on a 26,000 kilometre trek to plan a new rally route because of bridges and roads being washed away.
Forty seven colourful vehicles and drivers will be flagged off on Saturday 21 August 2010 at 7.30am from the Swan Hill Pioneer Settlement in Victoria to commence their 4800 kilometre rally which is set to end at Glen Innes in New South Wales on Saturday 21 August 2010.
One Kar in the Rally that won't mind the water is the Bathurst Surf Life Saving Club who wear bathers and carry a surfboard.
Link to the 2010 Kidney Kar Rally entrants http://www.kidney.org.au/NewsEvents/KidneyKarRally/Entrants/tabid/275/Default.aspx

Media Briefing - Rally Registration and Safety Check
12.00 noon Friday 13 August 2010 Swan Hill Pioneer Settlement, Monash Drive, Swan Hill
All cars and crews will assemble at this spot for final registration and safety checks and will be available for pre-rally interviews.
7.30am Saturday 14 August 2010 Start of Rally
47 vehicles flagged off from Swan Hill Pioneer Settlement, Monash Drive, Swan Hill

All Media Enquiries: 
Ron Smith, Kidney Health Australia, National Communications Manager (03) 9818 5700 Mobile: 0417 329 201

Kidney Kar Rally Timetable

Saturday 14 August 2010 - Day 1
7.30am Swan Hill / Lunch 11.45am Pinnaroo SA / 3.50pm Murray Bridge SA - 591 km approximately

Sunday 15 August 2010 - Day 2
7.00am Murray Bridge / Lunch 11.00am Burra SA / 4.20pm Wilpena Pound SA - 702 km approximately

Monday 16 August 2010 - Day 3
7.30am Wilpena Pound SA / Lunch - en route / 4.20pm Broken Hill NSW - 690 km approximately
Tuesday 17 August 2010 - Day 4
Early start Broken Hill NSW / Lunch - en route / late afternoon Quilpie QLD - 845 km approximately
Wednesday 18 August 2010 - Day 5
8.00am Quilpie QLD / Lunch 11.30am Charleville QLD - 301km approximately
Thursday 19 August 2010 - Day 6
7.30am Charleville QLD / Lunch 11.40am Injune QLD / Taroom QLD 4.40pm - 692 km approximately
Friday 20 August 2010 - Day 7
7.30am Taroom QLD / Lunch 11.30am Chinchilla QLD / Dalby QLD 4.30pm - 611 km approximately
Saturday 21 August 2010 - Day 8
7.00am Dalby QLD / Lunch 11.30am Stanthorpe QLD / Glen Innes NSW 3.00pm - 510 km approximately

Daily Arrival and Departure Points

Swan Hill -
Pioneer Settlement, Monash Drive, Swan Hill VIC
Pinnaroo -
Pinnaroo Bakery Café, 12 Railway Terrace South, Pinnaroo SA
Murray Bridge -
Murray Bridge & District Community Club, Sturt Reserve, Murray Bridge SA
Burra -
The Burra Hotel, 5 Market Street, Burra SA
Wilpena Pound -
Wilpena Pound Resort, Wilpena Road, Via Hawker SA
Broken Hill -
Musicians Club Broken Hill Ltd, 276 Crystal Street, Broken Hill NSW
Quilpie -
Quilpie Club Ltd, Brolga Street, Quilpie QLD
Charleville -
Charleville RSL Memorial Club, 37 Watson Street, Charleville QLD
Injune -
Injune Bowling Club, 60 Hutton Street, Injune QLD
Taroom -
Arrive Leichhardt Hotel, Dawson Street, Taroom / Depart Taroom Town Hall, Taroom Street, Taroom QLD
Chinchilla -
Hi-Way Café, Warrego Highway, Chinchilla QLD
Dalby -
Dalby RSL Memorial Club, 69 Drayton Street Dalby QLD
Stanthorpe -
Stanthorpe Sub Branch RSL Servicemen's Club Inc., 46 Marsh Street, Stanthorpe QLD
Glen Innes -
Glen Innes Golf Club, Hutchinson Street, Glen Innes NSW