Media Release
Tuesday, 10 August 2010 14:12
Kars Roll into Swan Hill on Friday 13 August 2010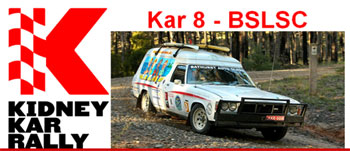 Kar 8 - Bathurst Surf Life Saving Club
Swan Hill residents are set to see some colourful vehicles and drivers on their streets over the next few days as cars in the 2010 Kidney Kar Rally converge on Swan Hill from all over Australia to raise funds to support Australians with kidney disease.
Friday 13 August 2010 will see forty seven teams of drivers and vehicles, along with another 18 Official vehicles and their krew, arrive in Swan Hill for Registration and Safety Checks from 9:00am to 2:30pm and a grand street parade at 3.30pm followed by a community barbeque at the local Repco Store, 7-13 Campbell Road, Swan Hill.
Repco, major sponsors of the event, are inviting the local community to the barbeque at 3.30pm where there will be Free Giveaways and 20% off vouchers.
With the slogan 'Performance-testing your kidneys will help keep your kidneys in top gear' this year the Kidney Kar Rally will cover 4800 kilometres over eight days starting at Swan Hill in Victoria, travelling through South Australia, Queensland and New South Wales finishing at Glen Innes on Saturday 21 August 2010.
The Kidney Kar Rally route includes the towns of Swan Hill, Pinnaroo, Murray Bridge, Wilpena Pound, Broken Hill, Quilpie, Charleville, Injune, Taroom, Chinchilla, Dalby, Stanthorpe and Glen Innes.
The Kidney Kar Rally over its 21 years has raised millions of dollars to assist Kidney Health Australia carry out its important work supporting thousands of people with kidney disease and staging special Kidney Kids Camps to provide children with kidney disease a special holiday with their peer group.
Anne Wilson, CEO and Managing Director of Kidney Health Australia said the annual Kidney Kar Rally provides a unique opportunity to 'Make A Noise About The Silent Killer' by urging all people in the high risk areas such as those over 50, those who are obese, smokers, people with diabetes, those with high blood pressure or from an indigenous background to have their kidneys checked.
Arthur and Kim Davis of Bathurst, the Road Directors of the Kidney Kar Rally for the past nine years, said all teams take the event seriously signing their cars and dressing their crews in appropriate gear to reflect the team's names.
Some of the names of teams include: Crazy Frog, Black Dog, Team Indulge, Farkarwee Tribe, Golden Oldies, The Blues Brothers, 2 Jewels in the Crown, Bathurst Surf Life Saving Club and Bloody Volvo Drivers.

Link to the 2010 Kidney Kar Rally entrants http://www.kidney.org.au/NewsEvents/KidneyKarRally/Entrants/tabid/275/Default.aspx
Media Briefing - Rally Registration and Safety Check
12.00 noon Friday 13 August 2010 Swan Hill Pioneer Settlement, Monash Drive, Swan Hill
All cars and crews will assemble at this spot for final registration and safety checks and will be available for pre-rally interviews.

7.30am Saturday 14 August 2010 Start of Rally
47 vehicles flagged off from Swan Hill Pioneer Settlement, Monash Drive, Swan Hill

All Media Enquiries:
Ron Smith, Kidney Health Australia, National Communications Manager (03) 9818 5700 Mobile: 0417 329 201

Kidney Kar Rally Timetable

Saturday 14 August 2010 - Day 1
7.30am Swan Hill / Lunch 11.45am Pinnaroo SA / 3.50pm Murray Bridge SA - 591 km approximately

Sunday 15 August 2010 - Day 2
7.00am Murray Bridge / Lunch 11.00am Burra SA / 4.20pm Wilpena Pound SA - 702 km approximately

Monday 16 August 2010 - Day 3
7.30am Wilpena Pound SA / Lunch - en route / 4.20pm Broken Hill NSW - 690 km approximately
Tuesday 17 August 2010 - Day 4
Early start Broken Hill NSW / Lunch - en route / late afternoon Quilpie QLD - 845 km approximately
Wednesday 18 August 2010 - Day 5
8.00am Quilpie QLD / Lunch 11.30am Charleville QLD - 301km approximately
Thursday 19 August 2010 - Day 6
7.30am Charleville QLD / Lunch 11.40am Injune QLD / Taroom QLD 4.40pm - 692 km approximately
Friday 20 August 2010 - Day 7
7.30am Taroom QLD / Lunch 11.30am Chinchilla QLD / Dalby QLD 4.30pm - 611 km approximately
Saturday 21 August 2010 - Day 8
7.00am Dalby QLD / Lunch 11.30am Stanthorpe QLD / Glen Innes NSW 3.00pm - 510 km approximately
Daily Arrival and Departure Points

Swan Hill -
Pioneer Settlement, Monash Drive, Swan Hill VIC
Pinnaroo -
Pinnaroo Bakery Café, 12 Railway Terrace South, Pinnaroo SA
Murray Bridge -
Murray Bridge & District Community Club, Sturt Reserve, Murray Bridge SA
Burra -
The Burra Hotel, 5 Market Street, Burra SA
Wilpena Pound -
Wilpena Pound Resort, Wilpena Road, Via Hawker SA
Broken Hill -
Musicians Club Broken Hill Ltd, 276 Crystal Street, Broken Hill NSW
Quilpie -
Quilpie Club Ltd, Brolga Street, Quilpie QLD
Charleville -
Charleville RSL Memorial Club, 37 Watson Street, Charleville QLD
Injune -
Injune Bowling Club, 60 Hutton Street, Injune QLD
Taroom -
Arrive Leichhardt Hotel, Dawson Street, Taroom / Depart Taroom Town Hall, Taroom Street, Taroom QLD
Chinchilla -
Hi-Way Café, Warrego Highway, Chinchilla QLD
Dalby -
Dalby RSL Memorial Club, 69 Drayton Street Dalby QLD
Stanthorpe -
Stanthorpe Sub Branch RSL Servicemen's Club Inc., 46 Marsh Street, Stanthorpe QLD
Glen Innes -
Glen Innes Golf Club, Hutchinson Street, Glen Innes NSW

Kidney Kar Rally Route